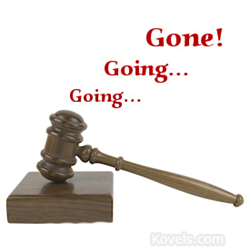 Cleveland, OH (PRWEB) June 05, 2015
Terry Kovel, national antiques and collectibles expert, gives tips on how to be prepared for the summer antiques auction season.
1. Get the catalog. Weeks before the auction, read the catalog either on paper, online or both. Corrections to the catalog may be announced the day of the sale — some damage discovered, a piece withdrawn or a changed description. There may also be additions. Go through the catalog and make notes about changes to avoid bidding on the wrong item.
2. Go to the preview. It's held days before or earlier the day of the auction and is a chance to learn the condition of items. Some auctions guarantee items for a period of time and some sell the items "as-is — check the auction catalog. Bring a camera, flashlight and magnifying glass to inspect items of interest thoroughly. Research and plan ahead to know what to bid and when to stop.
3. Register and establish credit to bid. Get a bidding number, and provide credit card information or pay a (sometimes large) returnable deposit.
4. Bid one of three ways – in person, online or by phone. Sit up close to be seen. Don't bid against your spouse or partner. Things move fast. For extra expertice watch an auction in advance. It's helpful to understand the rhythm, hand signals and placement of auction employees who work the bank of computers, phones and the room, as well as the way bidders use paddles.
5. Know the buyer's premium. It's a percentage, different for each auction house, anywhere between 10 and 25 percent of the "hammer" price (final bid price), that a successful bidder must pay in addition to the hammer price. Percentages can differ for in-house, phone and internet buyers, and may include an extra fee for using a
credit card. To find the percentage, check the "conditions of sale" in the catalog or ask before bidding. Local sales tax is charged.
6. Plan to remove any purchases. There is a window of time usually up to three days to make arrangements, but after that, there is a charge for storage. Auction companies will usually arrange packing and shipping, but again, there is a charge.
7. It's OK to go hungry. Anything from snacks to gourmet feasts can be found, some free, some for sale.
About Kovels.com
Kovels.com, created by Terry Kovel and Kim Kovel, provides collectors and researchers with up-to-date and accurate information on antiques and collectibles. The company was founded in 1953 by Terry Kovel and her late husband, Ralph. Since then, Kovels' Antiques has written some of America's most popular books and articles about antiques, including the best-selling "Kovels' Antiques and Collectibles Price Guide," now in its 47th edition. The website, Kovels.com, online since 1998, offers more than 1 million free prices, and includes a free weekly email, "Kovels Komments." It gives readers a bird's-eye view of the market through the latest news, auction reports, a Marks Dictionary, readers' questions and answers and much more.
Contact Information:
Liz Lillis
216.752.2252
Pr(at)kovels(dot)com