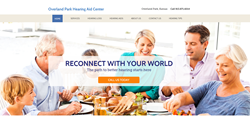 Overland Park , KS (PRWEB) June 04, 2015
Overland Park Hearing Aid Center has created a weekly blog that will offer information on important hearing healthcare topics. The blog can be found at http://www.hearkc.com/hearing-tips.
The blog will contain vital information on hearing healthcare topics such as hearing loss, hearing testing, hearing aids, tinnitus therapy, and hearing loss prevention. Articles will include advice on dealing with hearing loss, guidance on how to approach others about their hearing loss, direction on how to prepare for a hearing evaluation, and advice on how to choose the most suitable hearing aids.
On the lighter side, the blog will cover fascinating hearing topics such as how insects and other living things hear, how to review an audiogram, careers in the hearing care profession, and the history of hearing aids, along with many more.
Additionally, weekly blog posts will be posted to Overland Park Hearing Aid Center's Facebook page, where followers will receive updates with every weekly post. The Facebook page will also contain interesting hearing-related information to reinforce Overland Park Hearing Aid Center's effort to elevate public awareness of hearing loss.
Overland Park Hearing Aid Center is encouraging anyone with suggestions for articles, or that want to learn more about a particular topic, to contact the practice.
About Overland Park Hearing Aid Center
The hearing care specialists at Overland Park Hearing Aid Center have more than 20 years of experience counseling, testing, and treating patients with hearing loss. With a range of educational and professional experience in several settings, our hearing care specialists have custom-fitted a large number of hearing aids for patients with diverse needs. We will leverage this experience and in-depth knowledge of hearing recovery to get you the best hearing possible.
Contact:
Scott Hesseltine
Overland Park Hearing Aid Center
http://www.hearkc.com
Phone: 913.438.3000