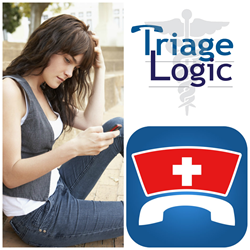 From our experience, 65% of patients who considered going to the ER did not need to go after speaking to one of our nurses." Ravi Raheja, MD
Jacksonville, FL (PRWEB) June 09, 2015
MyNurseTriageTM is pleased to announce the release of a nurse advice line for consumers. MyNurseTriage gives patients the convenience of requesting a call back from a live Registered nurse, 24/7 directly from a smart phone, tablet or website. MyNurseTriage is part of the TriageLogic Group, a URAC accredited leading provider of nurse triage services, which already covers millions of people.
MyNurseTriage has great appeal because a) patients can quickly access a nurse from anywhere; b) a trained professional evaluates the caller and advises him or her on the necessary care steps; and c) it is affordable. An entire year's subscription could cost less than one co-pay for a doctor online or in person.
Saves Time and Money
Nurses help keep patients out of emergency rooms if they do not need to be there. "Emergency rooms are not allowed to give patients advice over the phone, but now they have a resource that they can give to patients when they call. From our experience, 65% of patients who considered going to the ER did not need to go after speaking to one of our nurses," says Ravi Raheja, MD, and Medical Director of MyNurseTriage. On the flip side, nurses also prevent delays in needed care. "Our research has shown that 7% of all people who think they have a uncomplicated symptom actually need urgent medical attention," says Marci Lawing, RN, Nurse Manager for MyNurseTriage.
How myNurseTriage works
People interested in the service register themselves on the website (or the soon to be released smart phone app). Once registered, a caller can request a consultation with a live Registered nurse by entering his or her current symptoms. A nurse calls the patient in less than 30 minutes. The nurse completes a thorough assessment, using physician-designed protocols, to determine the appropriate level of care. If the caller's condition is not serious, the nurse provides home care instructions and can prevent a visit to an Urgent Care or ER facility. "Our next goal is to connect with a telephone doctor service to give patients the option to speak to a doctor after the nurse, if the symptoms require a doctor visit," says Charu G. Raheja, PhD, Chair and CEO of MyNurseTriage.
About MyNurseTriage:
MyNurseTriage is part of the TriageLogic Group, a URAC accredited, Nurse Triage Service with over 1 million patient calls to date. MyNurseTriage gives patients the convenience of requesting a call back from a live registered nurse, 24/7, directly from their smart phone, tablet or a website through a low-cost monthly subscription. For more information, please visit: http://www.mynursetriage.com