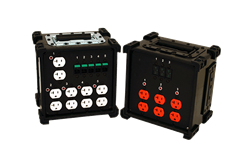 We can now deliver an affordable 'lunch box' that is safe, durable, and budget friendly
Shelton, CT (PRWEB) June 08, 2015
Lex Products introduces the CineBox™ to its PowerHOUSE™ series of portable power distribution boxes. These stackable and compact non-conductive, heavy-duty rubber enclosures are designed to withstand the rugged conditions of location shoots and studio sets while working well within production budgets.
The CineBox™ features a collapsible color-coded handle for easy identification of voltage ratings, flush mounted hydraulic magnetic breakers, LED indicators and shock/impact resistant Lexan bumpers.
"Lex Products has been a standard in the motion picture and television production markets for over 25 years, our new CineBOX™ is a long awaited answer our customers have been asking for. We can now deliver an affordable 'lunch box' that is safe, durable, and budget friendly", stated Patrick O'Keefe, Entertainment Product Manager at Lex Products.
Available in 100A 120VAC or 60A 120VAC and featuring either (5) 5-20 duplex receptacles or (3) 5-20 duplex receptacles each fed by a 20A 120VAC circuit breaker. Both models feature stage pin inlets/feed thrus.
Product Features & Benefits

Stackable, Heavy-duty rubber enclosure is non-conductive and resistant to shock, impact and corrosion
Durable lexan bumpers allow units to stack for easy storage and protects enclosure
Collapsible handles provide easy handling in tight spaces and allow carrying multiple units
100% Branch-rated hydraulic magnetic breakers will not nuisance trip at higher temperatures
Flush mounting circuit breakers protect handles from impact while providing easy access
Extra heavy-duty industrial grade receptacles are designed and manufactured to withstand harsh conditions
Bright, color coded receptacles easily identify the box rating and increase visibility in low-light situations
Optional threaded insert on the back provides easy mounting with C-clamp
For more information, visit http://www.lexproducts.com or call 1-800-643-4460.
# # #
About Lex Products:
Lex Products Corporation is a leading manufacturer of innovative power distribution and control systems for demanding markets, including entertainment, industrial and the military. Founded in 1989, the company specializes in portable power systems including distribution boxes, cable assemblies, cable protectors and other products, designed to withstand rough use and harsh environments. Lex Products is ISO 9001:2008 certified for all production, operations and support services across its three U.S. facilities.
Headquartered in Shelton, Connecticut, the company also has offices in Sun Valley, California and the United Kingdom.. For more information, visit http://www.lexproducts.com or call 1-800-643-4460.