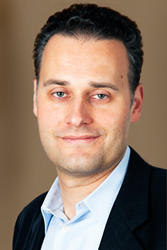 Chicago (PRWEB) June 05, 2015
cleverbridge, a global full-service ecommerce provider for software and cloud companies, announces cleverbridge CFO and general counsel, Oliver Breme, will present at the 12th Annual Stanford Ecommerce Best Practices Conference. The conference will be held June 8, 2015 at Stanford Law School in Palo Alto, California. Breme will participate in the "Best Practices Regarding Innovation in Payment Systems" panel discussion from 11:45 a.m. - 12:45 p.m.
Joining Breme on the panel will be Erin Fonté, from Cox Smith; David E. Teitelbaum, from Sidley Austin LLP; Holly K. Towle, from K&L Gates LLP; and moderator Eran Kahana, from Maslon LLP and the Stanford Center for Legal Informatics. The panel will discuss the Chip-and–PIN credit card change-over and the liability shift to merchants who do not switch over in time and the security implications. They'll also cover regulatory compliance for new payment systems, everything companies need to know about PCI compliance, what to do if a payment system has been used for illegal payments, and litigation trends in point of sale transactions.
Before joining cleverbridge, Breme worked for a premiere Silicon Valley law firm where he specialized in mergers and acquisitions, international taxation, technology transactions and intellectual property. He holds degrees from the School of Law and Economics of the University of Bonn, Germany and Stanford Law School.
The Stanford Ecommerce Best Practices Conference is the premier educational event for in-house counsel and practitioners in the ecommerce industry. Leading experts from industry, legal practice and academia will address current issues facing the industry and offer practical solutions for dealing with the many legal uncertainties that arise when doing business online.
For more information on the Stanford Ecommerce Best Practices Conference, visit https://conferences.law.stanford.edu/bestpractice2015. To learn more about cleverbridge, please contact inquiry@cleverbridge.com or visit http://www.cleverbridge.com.
About cleverbridge
cleverbridge is a proven leader in ecommerce technology, services and expertise for global software and cloud companies that serve consumers and businesses. For more than 300 clients – including Avira, Corel, Dell, Malwarebytes and Parallels – cleverbridge is a true extension of their teams, understanding each client's billing models, markets, channels and specific ecommerce requirements. cleverbridge provides an unsurpassed customer experience so that clients can strategically leverage ecommerce to effectively build customer relationships and generate more revenue. Headquartered in Cologne, Germany, cleverbridge has offices in Chicago, San Francisco and Tokyo. For more information, visit http://www.cleverbridge.com.