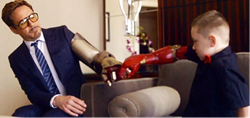 Fab Lab Hub is excited to help volunteers #3DPrint4Good through this inspiring project! - Sarah Boisvert, Founder
Cambridge, MA (PRWEB) June 06, 2015
Fab Lab Hub, a non-profit digital fabrication laboratory, is joining forces with business and the worldwide community to support e-Nable volunteers with 3D printers and supplies. All over the globe, thousands of selfless individuals have fabricated prosthetic hands from e-Nable designs for kids and adults in need at no charge.
Current e-Nable makers with 3D printers will get more material and assembly kits and Fab Lab Hub will also purchase additional 3D printers to expand the ever-growing volunteer force. A team in the Boston area, especially students from Cambridge colleges, will also work on creating a new e-Nable node at Fab Lab Hub's space in the Cambridge Innovation Center in Kendall Square.
Not only do the hands and arms serve a utilitarian purpose of gaining the use of a lost limb, there are many more benefits for the recipients. Now instead of having an ugly prosthesis, there are beautiful hot pink hands as well as Super Hero hands like the one Robert Downey, Jr. presented to a young boy in Florida. E-Nable hands can make a kid feel cool, rather than physically challenged.
The e-Nable project has also expanded the application of 3D printing for the greater good of mankind. There are now:

people from all walks of life 3D printing fingers and hands for children and adults they will never meet
school students making hands for people in their local communities
hundreds of Scout troops assembling hands for children in underserved areas
special volunteers risking their lives to get these devices to people in developing nations
new stories every day of parents and children working together to make a hand
Using a crowdfunding platform developed by Cambridge-based Social Seam, businesses donate rewards as thanks for contributors but unlike other crowdfunding sites, every contributor gets all the donated rewards. Many rewards are for online products such as Room 68 cool furniture and design, as well as web orders from Boston BonBon, 3D Microfactory 3D Printing, Lonesome Lee West and Atlas Coffee Club. Local Boston-area rewards include discounts at Shawn's Studio in Watertown, MA, Rebecca's Café Kendall Square catering, Moose & Mimi Relaxology, Charles River Canoe & Kayak, Streetcar Wines, Bite Kite, and Sweet Simplicity Crepes.
A Cube 3D Printer and GeoOrbital Bike Wheel are featured giveaway prizes for anyone who simply endorses the project, shares it through social media and invites friends to join in the fun, with no purchase necessary.
Special events include a chess match with Social Seam's Jason Baguio on Friday June 12 at 6 p.m. at the Cambridge Innovation Center where players get a chance to win a 3D printed chess set. Reward provider Moose & Mimi are organizing a spa evening on June 18 from 7 – 9 p.m. with a 3D printed jewelry trunk show with purchases benefiting the Lend a Hand to 3D Print a Hand fundraiser.
The crowdfunder will finish with an awesome Thanks for Lending a Hand Party on June 26 at the Microsoft NERD Center in Cambridge for anyone who contributes at least $20. The evening will feature music by the 1201 Blues Band with special guest Lonesome Lee West, food & wine/beer, plus lots of surprises. A silent auction will feature Red Sox tickets, Vidal Sassoon haircut, restaurant vouchers, autographed book from Noam Chomsky, a 3D Printing workshop, and other FABulous prizes. To get tickets for the Thanks for Lending a Hand Party go to the secure online reservation via Social Seam.
About Fab Lab Hub
Fab Lab Hub is a part of the International Fab Lab Network started at the MIT Center for Bits and Atoms to bring digital fabrication tools and skills to communities. The non-profit helps start new Fab Labs by providing resources such as training and consulting services.