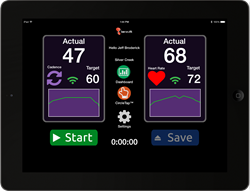 This is a fantastic way for physicians to augment their patient's current treatment regimen.
SAN FRANCISCO, CA (PRWEB) June 05, 2015
Beneufit's pdFIT™ is a disease management solution for Parkinson's patients. The goal of the program is to reduce symptoms, delay disease progression and improve quality of life by leveraging exercise. This is accomplished by prescribing specific exercise protocols designed for Parkinson's disease patients and continuously monitoring patient health through a series of tests provided through the pdFIT™ app.
Jeff Broderick, Beneufit's CEO said "pdFIT™ is an important tool for Parkinson's disease patients who are fighting to remain independent and delay disease progression. We've seen significant improvement in fitness capacity and motor control for those engaged in our program. Now that we're included in the AppScript™ platform we'll be able to connect with patients and physicians in a novel and thoughtful manner."
AppScript is a mobile health discovery and distribution platform that helps physicians and other healthcare professionals easily evaluate, select and prescribe the right mobile health applications, connected devices, and educational content for use by patients and caregivers.
About AppScript
AppScript™ is the leading discovery and distribution platform for mobile health technologies. The AppScript team has curated and characterized thousands of mobile healthcare apps, hundreds of connected devices, and millions of pieces of educational content by condition and stage of the patient journey. Each mobile health technology is assessed using the company's proprietary IMS Health AppScript Score, which ranks apps and devices based on six primary metrics: functionality, professional reviews, patient reviews, endorsements, developer trust ratings and clinical ratings. AppScript enables any healthcare professional to securely prescribe, track and reconcile mobile health content prescribed to patients and caregivers. Learn more at http://www.appscript.net.
About IMS Health
IMS Health is a leading global information and technology services company providing clients in the healthcare industry with comprehensive solutions to measure and improve their performance. End-to-end proprietary applications and configurable solutions connect 10+ petabytes of complex healthcare data through the IMS One™ cloud platform, providing comprehensive insights into diseases, treatments, costs and outcomes. The company's 15,000 employees blend global consistency and local market knowledge across 100 countries to help clients run their operations more efficiently. Customers include pharmaceutical, consumer health and medical device manufacturers and distributors, providers, payers, government agencies, policymakers, researchers and the financial community.
As a global leader in protecting individual patient privacy, IMS Health uses anonymous healthcare data to deliver critical, real-world disease and treatment insights. These insights help biotech and pharmaceutical companies, medical researchers, government agencies, payers and other healthcare stakeholders to identify unmet treatment needs and understand the effectiveness and value of pharmaceutical products in improving overall health outcomes. Additional information is available at http://www.imshealth.com.
About Beneufit, Inc.
Beneufit is a personalized, outcome-based disease management platform powered by mobile devices and wireless sensors, enabling people to manage chronic disease through exercise. Through disease-specific exercise protocols combined with medication adherence and real-time clinical outcome measurements, patients are able to not only manage, but improve their condition. More information is available at http://www.beneufit.com.