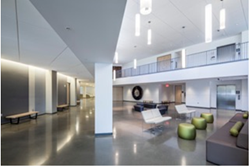 We are very honored to receive this recognition and greatly appreciate the partnership we have created with the University of Arkansas in Fayetteville to support their building and sustainability initiatives," said John Allison
Little Rock, AR (PRWEB) June 11, 2015
During the recent 2015 National Conference of the American Institute of Architects (AIA) held in Atlanta, Georgia, Little Rock-based Allison Architects won a 2015 AIA Gulf States Region Merit Award for Hillside Auditorium on the University of Arkansas campus in Fayetteville. The awards program identifies built works of distinction by architects from Alabama, Arkansas, Louisiana, Mississippi, and Tennessee.
Hillside Auditorium is sited adjacent to the historic Chi Omega Greek Theater, and has two auditoria - one seating 487 persons, and a second seating 290 persons. Designed to recede into the hillside, vegetated roofs allow the continuation of the natural topography across the site and maintain the prominence of the Greek Theater. Along with the planted roofs, an efficient exterior envelope, and high-efficiency building systems, Hillside Auditorium was awarded a LEED Silver certificate for sustainable design. Perry Dean Rogers Partners Architects of Boston, MA served as auditoria design consultants.
"We are very honored to receive this recognition and greatly appreciate the partnership we have created with the University of Arkansas in Fayetteville to support their building and sustainability initiatives," said John Allison, President of Allison Architects. "We always strive to design beautiful, sustainable and functional spaces and we are grateful for this recognition from our peers."
Hillside Auditorium accommodates theatrical, spoken word, and musical performances and helps fill a niche not met by existing performance spaces found on campus. Notable features of the building include a highly visible entrance and event pavilion that is enclosed on three sides by high-efficiency glazing. The pavilion, located on the uppermost-vegetated roof, incorporates a catering kitchen, ample public seating, and gathering space, allows for expanded uses of the building and exterior spaces for special events.
More information on this project is available at:
http://www.allisonarchitects.com/hillside-auditorium.html
About Allison Architects, Inc.
Led by principals John Allison, AIA, LEED AP and Chris Hartsfield, AIA, Allison Architects, Inc. was founded in 1995 and has distinguished itself by winning numerous awards for state and regional design excellence. It was named "Best Architecture Firm" in 2008 by Arkansas Business' Best of the Biz Awards. More information is available at http://www.allisonarchitects.com.