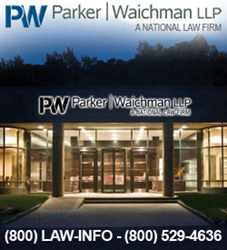 As a firm that has fought for the rights of victims since the beginning, we understand the need to extend these benefits."
Port Washington, New York (PRWEB) June 05, 2015
Parker Waichman LLP, a national law firm that has spent many years fighting to ensure that the heroes of 9/11 terrorist attacks are never forgotten, comments that Congress is facing growing pressure to reauthorize the Zadroga Act, which provides crucial medical care and compensation to rescue workers who were injured due to the 9/11 terrorist attacks. On May 20, 2015, The New York Daily News published an editorial urging members of Congress to extend the program, emphasizing that the benefits will expire by the end of 2016 and "must be renewed for another five years." The Daily News noted that rescue workers nationwide have been affected. Republican Representative Mike Fitzpatrick and Democratic Senator Bob Casey are two legislators that support the bill.
"As the expiration date for Zadroga Act benefits draws nearer, pressure is building on Congress members to renew the program," said Matthew J. McCauley, Senior Litigation Counsel at Parker Waichman LLP. "These individuals sacrificed everything during a national crisis, and they deserve these benefits.
The NY Daily News published another editorial on June 1, 2015 noting that support to reauthorize the Zadroga Act is growing in Congress, noting that, "Crucially, Republicans are getting on board." Pennsylvania Republican Representatives Mike Kelly and Charlie Dent signed on as co-sponsors of the bill after meeting with two rescue workers who became ill due to their work at Ground Zero. Other lawmakers who recently joined include Republican Representatives David Jolly of Florida and Mike Bost of Illinois.
Reauthorizing the Zadroga Act is important for survivors and responders who were injured due to the 9/11 attacks, notes Parker Waichman. Toxic dust exposure at Ground Zero has been linked to numerous conditions, including respiratory conditions and over 60 different types of cancer. What's more, new conditions are being added to the list and some conditions take more time to manifest.
The Act's two programs are the World Trade Center (WTF) Health Program and the September 11th Victim Compensation Fund (VCF), which provide medical treatment and monitoring and compensation, respectively, Parker Waichman explains. These benefits are scheduled to expire if the bill is not renewed. "We applaud lawmakers for taking initiative to protect our 9/11 heroes," said Gary Falkowitz, Managing Attorney at Parker Waichman. "As a firm that has fought for the rights of victims since the beginning, we understand the need to extend these benefits."
Parker Waichman LLP has actively worked toward passage of the Zadroga Act, which was passed in 2010. The firm's actions include, in part, grass roots efforts and lobbying efforts and trips to the nation's capital led by Mr. McCauley, often, along with the firm's clients. Mr. McCauley, Mr. Falkowitz, and Parker Waichman continue to support the Zadroga Act and continue to support efforts to extend the Act's timeline and its scope.
Parker Waichman LLP, which worked, and continues to fight, alongside Ground Zero first responders, survivors, and their advocates, to help ensure passage of the Zadroga Act and its amendments, vows to continue its efforts to safeguard these heroes and ensure that they receive all of the Zadroga Act compensation they deserve. If you or a loved one are eligible for compensation under the Zadroga Act, and would like assistance with your claim, or if you or a loved one have been injured as a result of toxic exposure, please visit Parker Waichman's website or call 1-800-LAW-INFO (1-800-529-4636).