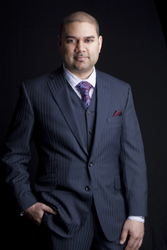 Dublin, OH (PRWEB) June 04, 2015
People who require treatment for gum recession in Dublin, OH, are now welcome to visit Dr. Neal Patel for the new Chao Pinhole® Surgical Technique. This procedure provides a less-invasive approach to correcting receding gums and preventing potential associated health problems, such as tooth infection and tooth loss. Dr. Patel can use this technique to treat even relatively extensive recession, and patients are unlikely to experience unwanted side effects afterward.
The Chao Pinhole® Surgical Technique allows Dr. Patel to effectively reverse gum recession. Dr. Patel performs the procedure by making a small incision in the receding gum tissue and then reaching into this pinhole incision with a specialized tool. Using this tool, Dr. Patel gently loosens the connective tissue, until it can be moved into a healthier position. Dr. Patel then secures the new placement of the gum tissue with strips of collagen. This approach allows Dr. Patel to correct recession that affects multiple teeth in one session, rather than over the course of multiple appointments. Patients do not require any sutures, and they typically experience a minimal risk of pain or bleeding. The likelihood of infection also decreases, as with any minimally invasive procedure.
People who suffer from gum recession in Dublin, OH, may develop this condition for various reasons. Gum disease is a common cause of gum recession. However, other oral health or hygiene issues, such as harsh brushing, poor hygiene or bruxism, can also worsen this condition. Other factors, including genetics and hormonal changes, may also be responsible for this condition. In any case, receding gums can leave patients vulnerable to tooth damage, infections, and even tooth loss. Dr. Patel can mitigate these risks by identifying the cause of gum recession and then determine a treatment plan, which may include the Chao Pinhole® Surgical Technique and other procedures, to prevent oral health complications and correct the underlying cause of the recession.
People who wish to avoid long-term oral health complications should pay attention to gradual changes in their periodontal health. Gum recession often goes unnoticed because it is such a slow process. Signs such as sensitivity, tooth mobility, and changes in apparent tooth length often indicate that recession is occuring. People who notice these symptoms are encouraged to call Dr. Patel's office to schedule an appointment and learn more about their treatment options for gum recession in Dublin, OH.
About the Practice
Infinite Smiles is a general practice in Powell, OH, providing personalized dental care through the use of the highest level of dental technology. Dr. Neal Patel received his Bachelor's degree in molecular genetics and his DDS from The Ohio State University. He is a member of the American Dental Association, the American Academy of Cosmetic Dentistry, and the American Academy of Craniofacial Pain, among many others. Widely published, he has been featured in Forbes, Newsweek, The Wall Street Journal and is a best-selling author. He has received numerous customer and peer review honors, including Columbus, Ohio Top Dentist and is an Angie's List Super Service Award winner for consistent customer satisfaction. To learn more about Infinite Smiles and the services Dr. Patel offers, visit his website at infinitesmiles.com or call (740) 881-2600.