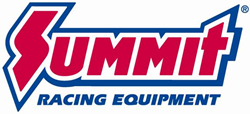 Tallmadge, OH (PRWEB) June 12, 2015
Summer heat can take a toll on people working or playing outdoors. Wearing a Techniche International HyperKewl Cooling Vest will help them stay comfortable for longer periods of time.
The HyperKewl system uses evaporative cooling to keep the heat at bay. Simply soak the vest in water for one to two minutes; the special HyperKewl fabric sewn into the vest absorbs the water, then releases it slowly to provide five to 10 hours of cooling. The HyperKewl vests have close to a 100 wet/dry cycle lifespan.
Summit Racing carries several types of HyperKewl cooling vests. All feature a durable, comfortable quilted nylon outer with a HyperKewl fabric inner lining, water-repellant nylon liner, and black cotton-poly elastic trim:

Sport Vest—zip front style with V-neck
Deluxe Sport Vest—zip-front style with high collar for additional protection, plus front pockets
Ultra Sport Vest—pullover style with mesh ventilation and a scoop neck
Hybrid Elite Sport Vest—zip-front style with mesh ventilation, front pockets, and two Coolpax PCM cooling block inserts that stay at 57 degrees F up to three hours
Summit Racing also carries HyperKewl beanies and cooling towels. And when the weather turns cold, Summit Racing has Techniche's ThermaFur T-shirts, headbands and headwarmers, and helmet liners that will keep users toasty during the winter months.
Summit Racing Equipment
http://www.SummitRacing.com
1-800-230-3030