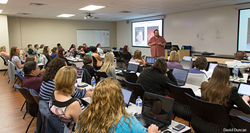 Lynchburg, Va. (PRWEB) June 04, 2015
Summer enrollment at Liberty University has grown tremendously this year, as more than 54,000 students are expected to participate in Summer 2015 courses on campus and online. Between 2010 and 2014, Liberty saw a 61 percent increase in summer enrollment, with the upward trend projected to continue this year.
Students interested in taking summer classes on campus have the option to enroll in one-, two-, and four-week courses called intensives.
Dr. Ronald Hawkins, Liberty's provost and vice president for academic affairs, said that the rise in summer enrollment numbers is not surprising considering an increase in the academic quality of Liberty students, including more National Merit Scholars, Honors Program students, and Eagle Scholar students. Many of these students are looking to expedite their path to graduate programs or medical school.
"Students, particularly motivated students, are able to knock out some pretty heavy-duty courses and move ahead in their program," Hawkins said.
According to Hawkins, students are also becoming more economically savvy as they pursue their career goals, with intensives costing less than semester-long courses.
"They are thinking, 'How can I accomplish my degree in the shortest period of time and for the fewest dollars, because I have to pay those dollars, or if I borrow them I have to pay them back,'" he said.
Intensives allow students to focus on a single course, rather than splitting their attention over numerous courses, as they do during a full academic semester. While intensives may be more rigorous, Hawkins said students appreciate the challenge, especially if it means taking care of prerequisite classes in order to move into the heart of their degree program quicker.
The efficiency of intensives is also appealing to students who are pursuing their degrees online. Since some online degree programs require a certain number of intensives, and many of those enrolled are adults already in the workforce (the average online student at Liberty is in their mid-30s), Hawkins pointed out that one-week intensives are structured to not take too much time away from what is more important, like family or a job.
"Parents and working professionals want to be able to go and complete that experience within a context that fits their lifestyle," Hawkins said. "This allows them to knock it out and save that extra time during the year for their families and other responsibilities that are very important to them."
An added benefit for many of Liberty's online students, Hawkins explained, is being able to interact with classmates and professors while experiencing the campus firsthand. Every week during summer intensives, a luncheon is held for visiting online students, welcoming them to campus and demonstrating how important they are in the Liberty family.
Some summer intensives are even offered overseas, such as in Rome or Greece. These "destination intensives" provide the same course material but are supplemented by cultural learning opportunities.
Study abroad trips are also offered in the summer and give students the chance to experience a foreign culture firsthand while earning class credit. This summer, more than 500 students will participate in 24 study abroad trips arranged by the Center for Student Travel. The trip locations include Central America, Europe, Africa, the Middle East, and Asia. Both online and residential students are eligible to participate in these trips, which are guided by Liberty professors from various departments, including the Helms School of Government, School of Business, School of Education, and School of Behavioral Sciences.
About Liberty University
Liberty University, founded in 1971, is the largest private, nonprofit university in the nation, the largest university in Virginia, and the largest Christian university in the world. Located near the Blue Ridge Mountains on more than 7,000 acres in Lynchburg, Va., Liberty offers more than 450 unique programs of study from the associate to the doctoral level. More than 200 programs are offered online. Liberty's mission is to train Champions for Christ with the values, knowledge, and skills essential for impacting tomorrow's world.