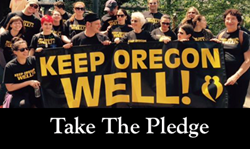 Take the Keep Oregon Well Pledge to stand up and speak out against stigma surrounding mental and behavioral health!
Portland, Oregon (PRWEB) June 04, 2015
Today Oregon's largest provider of mental and behavioral healthcare for children and families, Trillium Family Services, and Northwest Radio Broadcasting Group Alpha Media (KXL, KXTG, KUFO, KINK, KBFF, KUPL Radio) announced a strategic partnership designed to educate the public, combat stigma, change the way the media reports on issues related to mental illness, and build awareness about local mental and behavioral health resources in the Pacific NW.
Alpha Media is joining Trillium's "Keep Oregon Well" advocacy campaign to assist in building a social movement around Oregon becoming a safer, more supportive place for ALL people to live, work, play and learn. Listen for "Keep Oregon Well" news items, free music giveaways, and opportunities to engage with these efforts on all of Alpha Media's radio stations, as well as online and at events.
A trauma-informed community is a healthy community!
Kicking things off this Saturday, June 6th at Kink on the Waterfront – featuring performances by Walk Off The Earth, The Wind and The Wave, Scars On 45, and KOPECKY – Trillium's "Keep Oregon Well" Street Team will be front and center, giving out prizes and signing concert-goers up for the "Keep Oregon Well" Pledge!
Look for the "Keep Oregon Well" booth at all major Alpha Media events over the coming year, including Live 95.5's "Flo at the Fair" with Flo Rida, Flicks on the Bricks, Terrapin Races, The Bull's "Countryfest" and more.
To learn more about how you can stand up and speak out against stigma by taking the "Keep Oregon Well" Pledge visit http://www.KeepOregonWell.com