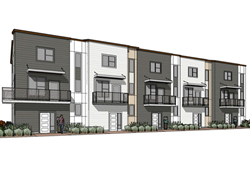 Salt Lake City, UT (PRWEB) June 06, 2015
The grand opening of Solameer in Herriman Towne Center will take place on June 5th and 6th from 10:00 am to 6:00 pm. These energy efficient and solar powered townhomes from the $190's are just a moments walk from shopping, dining, and quality schools making Solameer a great first home for young families or those looking to downsize.
The grand opening will showcase the surrounding amenities of the community such as the clubhouse and pool. Designed with a modern mindset, Solameer offers a different look, a different feel, and a different way of life.
The event will be held at 13347 South Celestina Lane, Herriman, UT 94096. For more information about Garbett Homes, contact them at info(at)garbetthomes(dot)com or 801-456-2430.
About Garbett Homes
Garbett Homes has been building, marketing and selling award winning communities for over 30 years. Their experience and longevity are only surpassed by their desire to impress each homebuyer or renter with the best possible experience. With Garbett Homes, you'll feel at home the moment you walk in the front door. They are proud to build affordable energy efficient homes from the mid $100s to the high $400s with style and class around the Salt Lake City area. As one of the greenest new home builders in Utah, Garbett offers the most up-to-date technology and design available.