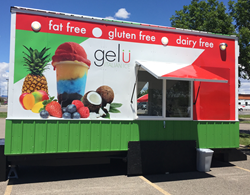 Gelu Italian "water" ice is a perfect mixture of fruit, water and sugar blended into a silky-smooth, refreshing dessert
GRAND JUNCTION, Colo. (PRWEB) June 05, 2015
Gelu Italian Ice, the bright-colored, push-cart dessert vendor found at most local farmers' markets, fairs and festivals, announces its biggest expansion yet.
The local business opened its giant "Ice Box" - a standalone location - May 29 at Sutherland's parking lot by Mesa Mall. Hours are 10 a.m. to 10 p.m. seven days a week.
"When we're at festivals, our customers are always asking where our store is, so here it is," Karin Gookin, Gelu Italian co-owner said. The "Ice Box" will be parked all summer and early fall outside of Sutherland's. "Or as long as it stays hot outside," she added.
To celebrate its grand opening, Gelu Italian Ice is set to host an event at the "Ice Box" from 3-5 p.m. Friday, June 5. Free Italian ice will be served as well as drawings for 4-day Country Jam passes.
Gelu still has its fleet of Italian ice mobile carts and is a regular at Grand Valley Food Truck Fridays. Upcoming events include all the local farmers' market (Fruita, GJ, Palisade and Orchard Mesa), weekly Fruita Rimrock Rodeo, Country Jam, Loudwire Music Fest, Mesa County Fair, Palisade Peach Fest, Colorado Winefest and many more.
"This year we are excited to expand geographically as well," Gookin said. "We will be at the weekly Glenwood farmers' market, Deltarado fest, and Price International Days in Utah."
To staff Gelu's growth, the business has hired more than 15 high school and college students in part-time positions.
Starting a business to satisfy your own sweet tooth isn't exactly sound, but that's exactly what owners, John Nelson and Karin and Ronn Gookin did in August 2013. Nelson grew up eating ice in his native Brooklyn, N.Y. The 75-year-old generational recipe comes from his Sicilian grandmother.
"I grew up eating my Grandma Bella's homemade Italian ice, and one day when I was struck with a craving I asked her for the recipe," Nelson added. The sorbet-like dessert was a hit with friends and family and prompted Nelson to try his hand at marketing it to the masses. Gelu Italian Ice is made at the Business Incubator's commercial kitchen.
Gelu Italian "water" ice is a perfect mixture of fruit, water and sugar blended into a silky-smooth, refreshing dessert. "We take pride in where we live and use locally grown fruits whenever possible," Karin Gookin said. "Our mission is to provide the highest quality and best-tasting products for our customers."
Gelu Italian Ice, which is dairy-free, gluten-free and cholesterol-free, comes in more than 20 flavors and is served in two sizes — small $3 or large $4. Flavors can be mixed and matched. Gelu also sells take-home sizes ranging from pints to 3-gallon containers.
At the 2015 Taste of the Grand Valley event, Gelu Italian Ice won the popular vote for "Best Sweet Creation" and came in second place in the "Best Snack" category.
"We're not going to stop until Gelu is a household name," Gookin said.
For more information, visit http://www.geluice.com; like them on Facebook; or follow Gelu on Twitter.