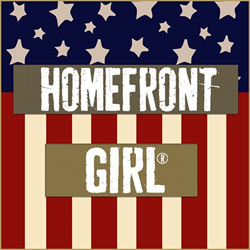 The Homefront Girl® Brand is inspired from the unique experiences, motifs and images of a military life
Washington, DC (PRWEB) June 04, 2015
Homefront Girl LLC, is a true patriotic lifestyle brand that has struck the hearts of everyone who has ever loved someone serving in the military and shared their hero with the world. HOMEFRONT GIRL® announced that it has added Firefly Consumer Products, Inc. as its exclusive Licensing Agent
"The Homefront Girl® Brand is inspired from the unique experiences, motifs and images of a military life," Juergens said.
As the wife of a career military Officer, Juergens knows firsthand the pride and passion of military life. She has turned those experiences into inspirational art that connects the civilian community with our military and furthers the bonds within the military itself.
With new key licensee's already signed and more being added every day, Homefront Girl® is quickly becoming America's most loved brand. Created by Gaby Juergens, licensed artist, designer and military wife, Gaby taps into the hearts of families with men and women serving in the Armed Forces with unique and uplifting inspiration.
Firefly will continue to build off the momentum established with Homefront Girl®, with the unique designs and art style licensees have already started establishing the brand with. Yankee Candle® has created a "Limited Edition" line of Homefront Girl® Candles, with one dollar from the sale of each candle going to support Homes for Our Troops.
Enesco has developed many accessories and gifts for the home categories.
"We are very excited to be working with such a special brand," says Cynthia Modders, CEO of Firefly Consumer Products, Inc. The inspiring fashion forward designs lend themselves to the first Americana brand tapping into over 25 Million females across the USA.
Homefront Girl® will be the brand for all those who are "the other half of the brave!"
Visit Firefly Brand Management Booth F177 at Licensing Expo 2015.
About Firefly Brand Management
Founded in 2009, Firefly Brand Management, a wholly owned subsidiary of Encore Brands, Inc. (OTC ENCB) is a global business development company specializing in Intellectual Properties for entertainment and consumer product applications. Firefly's goal is to provide clients with a strategic growth plan on a global scale that delivers brand building and revenue.
For more information contact:
(415) 513-5826
Cynthia Modders
President
Firefly Brand Management
Cell: 818-209-2678
Office: 415-513-5826
Email:cynthiamodders(at)fireflybrandmanagement(dot)com