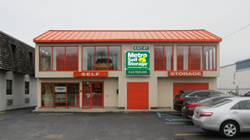 Lake Forest, Illinois (PRWEB) June 05, 2015
Metro Storage LLC today announced the purchase of the Pond Road Self Storage facility in Oakdale, New York on Long Island. Located at 4038 Sunrise Highway in Oakdale, this is the third Metro store located in New York, with a fourth currently under construction in Brooklyn, NY.
"The addition of this facility will broaden the Metro Self Storage® footprint in the market and enable us to better leverage our brand in the New York area," said Metro Storage LLC Chairman, Matt Nagel.
This new store adds 45,200 rentable square feet and 417 rental units to Metro Storage's existing New York portfolio. The fully fenced property consists of four single-story buildings, plus a 2½ story office building and features drive up non-climate units, outdoor parking, and gated access and security cameras. The store will also include a Penske Truck rental operation.
"This is a great opportunity for Metro to leverage our experience and take a good store and make it great and ultimately provide a better storage experience for our customers," said Blair Nagel, CEO of Metro Storage LLC.
About Metro Storage LLC
Metro Storage LLC is a privately owned, fully integrated, international self-storage operating company specializing in the development, construction, acquisition, and management of self-storage facilities in the USA and Brazil. Metro operates under the trademark Metro Self Storage® in the US, being one of the top 10 largest owner/operators of self-storage facilities in the United States with over 100 stores covering 11 states. Metro operates in Brazil under the trade name MetroFit which is one of the fastest growing self-storage companies in Brazil. More information about the firm is available at http://www.metrostoragecorporate.com.