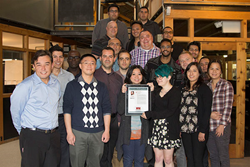 IT is a tough job, but overseeing the ever-increasing advancement and efficiency of DTT makes it extremely rewarding.
Los Angeles, CA (PRWEB) June 09, 2015
Vic Herrera, Chief Technology Officer for DTT, was honored with the Los Angeles Business Journal's 2015 CIO/CTO of the Year Award for "IT Team of the Year" on June 3rd. This accolade recognizes Vic's various successes and management of DTT's growing IT Team.
As head of the DTT IT department, Mr. Herrera is responsible for building customer-facing technologies and products for DTT's cloud-based surveillance and loss prevention services. He and his team are extremely skilled at assessing the current and future technological needs of the business, partly accomplished by holding meetings and Q&A sessions with numerous DTT departments to gain additional perspective and feedback.
Vic joined DTT's Los Angeles office in 2004 and has since established key operational standards for his department, along with a focus on career growth and productivity for each of his team members. With an emphasis on communication, Vic maintains an open-door policy and encourages new ideas from others around him.
"I am honored and humbled to have led DTT's IT Team for the past 11 years," says Vic. "Our CEO Sam Naficy has built an amazing business and has given us the resources and latitude to grow our infrastructure to what it is today. IT is a tough job, but overseeing the ever-increasing advancement and efficiency of DTT makes it extremely rewarding. I am so grateful for all those that made this award possible, from our department leads to my lovely wife."
"DTT is incredibly lucky to have talented people like Vic leading critical areas of our business," states Sam Naficy, DTT's Founder and CEO. "Vic and his team persistently implement viable solutions to make sure the needs of both our customers and employees are met. In even the most stressful times, Vic maintains a positive demeanor and leads with a smile, which is truly admirable."
This award follows various CTO of the Year Honoree mentions for Vic from LABJ since 2012.
About DTT
Headquartered in Los Angeles, California, DTT provides digital video surveillance solutions to the hospitality and specialty retail industries. DTT was founded in 1999 by Sam Naficy, leveraging the power of emerging digital technology to support the needs of a broad base of clientele. Since first launched, DTT has equipped, serviced and supported more than 35,000 clients. Every day, software provided by DTT protects trillions of dollars in assets and oversees nearly 2 million employees. Some of the world's most popular and respected restaurant brands use DTT including McDonald's, SUBWAY®, Dairy Queen, Burger King, Dunkin Brands, Taco Bell, KFC, Auntie Anne's, and Potbelly Sandwich Works, to name a few. Please visit http://www.dttusa.com for more information.
About Los Angeles Business Journal
Los Angeles Business Journal is the go-to source for in-depth news about Los Angeles business and the people who shape it. Each week, the award-winning editorial team brings LA residents economic news, demographics and lifestyle profiles. The Los Angeles Business Journal is a trusted source for in-depth analyses of the community's ever-changing business and economic scene. Departments include Up Front, highlighting stories of importance featuring Los Angeles businesses and their decision-makers; Media & Technology, focusing on up-to-the-minute changes and innovations in the businesses that serve these fields; Small Business, profiling those smaller businesses moving into the fore; and Investment and Finance, where L.A.'s many public companies are profiled and analyzed.