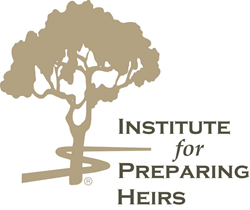 We have entered one of the most exciting business growth and client retention opportunities in the history of wealth management.
Pasadena, California (PRWEB) June 08, 2015
Institute for Preparing Heirs® will hold its hallmark financial advisor program, The Great Wealth Transfer: Attracting, Engaging and Retaining Generational Families, November 1-3, 2015, at Pepperdine University in Malibu, CA. Enroll by June 30 and save $500 off the program cost.
By attending The Great Wealth Transfer program, advisors learn about new strategies and new tools to differentiate their practices and grow their businesses by meaningfully connecting with—and earning the trust and loyalty of—all affluent family members, including spouses, children and grandchildren.
"We have entered one of the most exciting business growth and client retention opportunities in the history of wealth management," said Vic Preisser, co-founder of Institute for Preparing Heirs and co-author of the highly acclaimed book, Preparing Heirs. "The needs of affluent clients are changing. Affluent clients are looking for a trusted family advisor to not only manage assets, but to also help them prepare their beneficiaries to be responsible stewards of family wealth."
The Great Wealth Transfer hallmark program focuses on the non-financial (inheritance) aspects of generational wealth transfer in affluent families and the new role of the wealth advisor. Advisors learn how to become the trusted family advisor, contemporary research on the aspirations of wealthy families, what affluent families want from their advisors, emerging role for women as family financial leaders, to use philanthropy as a tool to unify families, and family wealth-health connection.
Attendees also hear winning strategies from advisors who have used the Institute's inheritance conversation topics and family tools to grow their high net worth practices.
Advisors leave this program with a 12-month membership to the Institute for Preparing Heirs with access to the Institute's turnkey toolkit along with the know-how and action plan to get started today. Tools include a series of inheritance conversation checklists, books and resources, and the Institute's Family Workbook that contains a series of inheritance topics with easy-to-follow family guidelines that foster unity among family members.
The program offers financial advisors:

Peer group break-out sessions to share best ideas on how to apply new learning and tools
World-class faculty
CE credits: 21 IMCA and a minimum of 7.5 CFP Board
Who would benefit from attending this hallmark program:

Financial advisors
Estate planning attorneys
Family office executives
Other trusted advisors who work with affluent families
Cost to attend: $3,500 ($3,000 if enrolled by June 30). For more information, call (626) 389-8664 or email contact(at)preparingheirs(dot)com.
ABOUT INSTITUTE FOR PREPARING HEIRS:
Institute for Preparing Heirs offers generational wealth transition training and speaking programs that bring advisors and families closer together by providing advisors with training, tools, and on-going support to prepare families for successful generational wealth transfer, and equip advisors to attract, engage and retain generations of affluent families. The Institute does not offer financial advice or sell financial products.