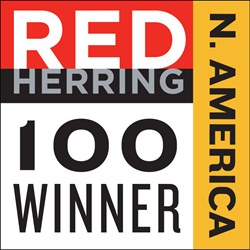 Wiser perfectly embodies the type of company we strive to recognize every year: an innovative, high-growth company with market-leading technology.
San Francisco, CA (PRWEB) June 05, 2015
Wiser, the leader in enterprise pricing intelligence platform, today announced that it has been named a winner of the Red Herring 2015 Top 100 Award for North America. The company was chosen from among hundreds of innovative and prominent technology companies. Wiser was the only pricing intelligence vendor to win the award, which was announced during ceremonies on June 3rd, 2015 in San Diego, CA.
Red Herring Top 100 award winners are put through a comprehensive assessment by Red Herring's editorial staff based on both quantitative and qualitative criteria, such as technological advantage, disruptiveness, financial performance, management quality, overall business strategy and market maturity. This evaluation is complemented by a review of the track record and standing of the organization relative to sector peers, allowing Red Herring to see past the "hype" and make the list a valuable instrument of discovery and advocacy for the most promising new business models in North America.
"Wiser perfectly embodies the type of company we strive to recognize every year: an innovative, high-growth company with market-leading technology," said Alex Vieux, publisher and CEO of Red Herring. "We congratulate Wiser and all of the other Red Herring Top 100 winners. We look forward to watching their continued success."
Hundreds of retailers, brands, and manufacturers worldwide rely on Wiser's enterprise pricing intelligence platform to stay competitive and profitable. Features include competitive monitoring, pricing automation, and analysis to perfect their pricing strategies.
"Pricing intelligence is becoming widely recognized as a must-have technology for retailers that want to keep up in such a competitive market," said Arie Shpanya, co-founder and CEO of Wiser. "Winning this award from Red Herring is great recognition of our technology and market momentum. We owe this award to our many customers and partners."
The annual Red Herring Top 100 North America Awards is one of the most acclaimed distinctions in the technology industry. The awards honor the region's top entrepreneurs and innovative private companies that are anticipated to experience extensive and rapid growth based on their current accomplishments to date. Red Herring editors analyze hundreds of organizations and choose the best of the best that epitomize successful growing companies with unique vision and drive.
About Wiser:
Wiser provides a complete suite of solutions to give retailers, brands, and manufacturers the edge to stay both competitive and most importantly, profitable.
Wiser's flagship product is WisePricer, full-featured dynamic pricing and merchandising engine that monitors, analyzes and reprices retail products in real-time. WisePricer enables retailers to boost profit margins and revenue, price with confidence, and improve merchandising through powering the development of a sound pricing strategy.
Wiser also offers a MAP monitoring solution, WiseMapper, for brands and manufacturers to monitor and protect their pricing across the thousands of retailers selling their products.
For more information on Wiser, please visit wiser.com