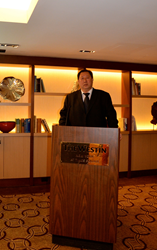 Next big thing is happening here
New York, NY (PRWEB) June 06, 2015
Aoxing Pharmaceutical Company, Inc. (NYSE MKT:AXN) ("Aoxing Pharma" or the "Company"), a specialty pharmaceutical company focusing on research, development, manufacturing, and distribution of narcotic, pain-management, and addiction treatment pharmaceuticals will be holding a press conference at New York Stock Exchange on Jun 9th from 3pm to 5pm.
At the conference, this pharmaceutical company will release very important company updates, introducing a project that they have been working on for the past 10 years. The management team will provide more details and give further explanations about this project on that day.
About Aoxing Pharmaceutical Company, Inc.
Aoxing Pharmaceutical Company, Inc. is a US incorporated specialty pharmaceutical company with its operations in China, specializing in research, development, manufacturing and distribution of a variety of narcotics and pain-management products. Headquartered in Shijiazhuang City, outside Beijing, Aoxing Pharma has the largest and most advanced manufacturing facility in China for highly regulated narcotic medicines. Its facility is one of the few GMP facilities licensed for the manufacture of narcotic medicines by the SFDA. For more information, please visit: http://www.aoxingpharma.com.