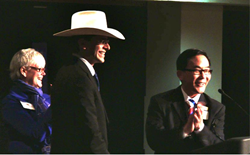 "the sun is about half to two-thirds responsible for 20th century warming and the current 18 year hiatus can also be explained by solar activity."
Calgary, Alberta, Canada (PRWEB) June 05, 2015
Just weeks after the final appeal ruling by the Ad Standards Council of Canada on Friends of Science Society's controversial digital billboard campaign of last fall, Friends of Science have a new, more nuanced message for the international audience attending the Montreal Grand Prix June 5-7, 2015.
The Montreal Grand Prix is said to be: "It's the most important tourism event in Canada in spending," said PierreBellerose, vice-president for Tourisme Montreal" according to a report in the Montreal Gazette of June 4, 2015.
The previous Friends of Science billboard campaign exploded into controversy in Montreal and was the subject of a Dec. 4, 2014 blog of the Sierra Club Canada Foundation. This in turn led to an op-ed by National Post "Full Comment" editor Kelly McParland on Dec. 5, 2014. A letter by the Quebec Association of Science Communicators was published Dec. 2, 2014 in the Montreal Gazette.
Friends of Science Society say the ad campaign ended according to schedule, on billboards across the country, on November 30, 2014. Months of review by the Ad Standards Council ensued before the appeal decision was published on-line May 21, 2015.
In partial response to the ruling that claims that Friends of Science billboards were misleading and not based on valid scientific evidence, on June 2, 2015, Friends of Science hosted award-winning Israeli astrophysicist Dr. Nir Shaviv, who indeed stated that the research work of he and his colleagues shows that "the sun is about half to two-thirds responsible for 20th century warming and the current 18 year hiatus can also be explained by solar activity."
Shaviv presented to a sold-out audience, demonstrating that the Intergovernmental Panel on Climate Change has established a trio of principles that they contend are unequivocal - his work shows they are not. According to Shaviv, carbon dioxide is not the most influential factor in climate change. He presented a number of graphs showing 'the same barcode' of matching fluctuations using solar references and temperature fluctuations.
According to a June 7, 2014 report on CBC, the Formula 1 inked a 10 year, $187 million dollar deal to keep Montreal Grand Prix . The report says "Over the next 10 years, the Grand Prix will run with the help of $62.4 million from the federal government, $62.4 million from Tourisme Montreal, $49.9 million from the province and $12.4 million from the City of Montreal….The city will also spend an additional $32.6 million to renovate the Circuit Gilles Villeneuve racetrack. That brings the total value of the deal to $219 million."
In light of the previous billboard controversy, which only occurred in Quebec during the national Friends of Science Society's billboard campaign, the Friends offer this food for thought: if fossil fuels and carbon dioxide emissions pose a threat to climate change, isn't this multi-million dollar investment an oxymoron when the Montreal Grand Prix welcomes some 500,000 tourists, most of whom fly or drive in for a long weekend of Formula 1 fast cars and fun?
Friends of Science Society wishes visitors 'Bienvenue' – and hopes it is a great party for all. They invite revellers to continue west to the low-carbon, horse-powered but equally thrilling Calgary Stampede July 3-12, 2015, known as the Greatest Outdoor Show on Earth.
About
Friends of Science have spent a decade reviewing a broad spectrum of literature on climate change and have concluded the sun is the main driver of climate change, not carbon dioxide (CO2). The core group of the Friends of Science is made up of a growing group of Earth, atmospheric, astrophysical scientists and engineers who volunteer their time and resources to educate the public.
Friends of Science Society
P.O. Box 23167, Mission P.O.
Calgary, Alberta
Canada T2S 3B1
Toll-free Telephone: 1-888-789-9597
Web: friendsofscience.org
E-mail: contact(at)friendsofscience(dot)org