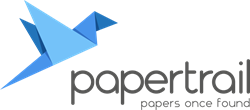 I can't even begin to quantify how much time Papertrail has saved me in fruitless googling and emailing trying to find a paper I know I've read.
Melbourne, Australia (PRWEB) June 08, 2015
Papertrail App Pty Ltd has recently released its new app to the public. Papertrail is a Windows desktop application which helps users manage and re-find PDF files. What makes this application unique is that it searches through PDF files like a human would do, using different sets of memory cues, such as color, date of accessing the file, page layout, keywords, sources or even the time of the day, to find the PDF file needed. Papertrail currently allows for searches for misplaced PDF files by using 26 different types of cues.
This application has been primarily designed with academics, students, professors, people doing their Master's or PhD thesis and researchers in mind. However, it is useful to anyone who has to deal with significant amounts of PDF files in their work. It helps save precious time and keeps files always a click or two away.
Papertrail is a product of research in information management and episodic memory and has facilitating re-finding of documents as its aim. It is currently available under a study participant license. The study is conducted at Monash University, Melbourne, under ethics approval as student research.
The application is freely available on Papertrail's website, but only for a limited time. The creators of Papertrail are using this release to invite users to download the app and provide potentially insightful feedback. Once the application has been downloaded, users will be able to rate it and give their opinion on its functionality and use.
A Mac version is planned for future release.
For additional information and updates, please follow Papertrail on Twitter at @PapertrailAca, or contact us at:
DataBranch, Suite 504, 365 Little Collins Street, Melbourne, VIC, 3000, Australia
Email: pobox(at)usepapertrail(dot)com
Tel: +61 3 9005 0822
Papertrail is a Papertrail App Pty Ltd registered trademark.