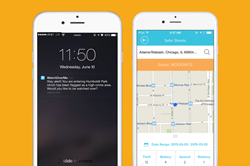 I see this as a movement for women to reclaim our streets and the cities that we live in.
Chicago, Illinois (PRWEB) June 11, 2015
The personal safety mobile app to protect women, Watch Over Me, launches Safer Streets Chicago in conjunction with National Safety Month in June.
Crime, street harassment, and sexual violence often leave women feeling vulnerable and insecure. Safer Streets is trying to change that by arming women with the information and awareness to make informed decisions about their safety.
Safer Streets technology analyzes crime, safety, and user generated data every day to assign a safety rating to streets. If a user enters a high crime area, they are alerted via a push notification from the Watch Over Me mobile app. Safety ratings of their current location or destination can be seen in the app, as well as the most recent numbers of theft, battery, and assaults. This gives them a chance to make informed and timely decisions about their safety and wellbeing, i.e. staying vigilant, detouring, or taking any necessary precautions.
"One in every 20 women in the US report being sexually assaulted, 293,000 victims every year. Those are insane numbers. Then it got me thinking. What would the world be like if women were able to lead freer, safer lives, unencumbered by fear of crime? What would we be able to achieve if we could lead our lives without the fear of something happening to us? This is why we're doing this. We're launching Safer Streets, first in Chicago, then in other cities. I see this as a movement for women to reclaim our streets and the cities that we live in," says Xin-Ci Chin, co-founder of Watch Over Me.
Business Insider classifies the mobile app as the "'Waze of personal safety - instead of giving you traffic updates, it warns you when you're about to enter a high crime zone." After launching in Chicago, the team is looking to bring Safer Streets to 50 cities by 2017.
Safer Streets Chicago is available online at http://www.saferstreets.org. Mobile crime alerts and access to real-time location safety ratings are available through the free Watch Over Me app in the Apple Appstore at https://itunes.apple.com/us/app/id431208868 or Google Play Store at https://play.google.com/store/apps/details?id=com.secqme.client.andrioid.