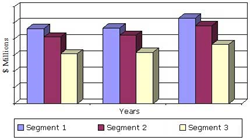 The U.S. market for geosynthetics will reach nearly $2.8 billion by 2020
Wellesley, Mass. (PRWEB) June 05, 2015
The U.S. is the world's largest market for geosynthetics, consuming nearly $2.4 billion in 2014. BCC Research expects this figure to increase to almost $2.8 billion by 2020, at a compound annual growth rate (CAGR) of 2.6%. This new report covers the U.S. market for all types of geosynthetics between 2014 and 2020, including geotextiles, geogrids and geonets, geomembranes, geocomposites, and other types (e.g., geocells, geofoams, geo-others).
Sales of geomembranes, the largest market segment in product terms, were $929 million in 2014. Growing at a CAGR of 2.4% over the next five years, these sales should reach nearly $1.1 billion by 2020. Meanwhile, geotextiles, the second-largest product segment at $827 million in 2014, are predicted to reach $965 million by 2020. Sales of other types of geosynthetics (geocomposites, geogrids/geonets, geocells, geofoams/geocombs, and geopipes) totaled $619.3 million in 2014, a figure that should reach $733.4 million by 2020.
"In the U.S., geosynthetics are the object of increased interest as a tool in the rebuilding and expansion of infrastructures," says BCC Research analyst Andrew McWilliams. "Geosynthetics are especially useful in an environment of growing land scarcity, increased awareness of seismic hazards, and more stringent environmental regulations."
Geosynthetics: Materials, Applications and Markets (AVM064B) is intended especially for executives, entrepreneurs, investors, venture capitalists and other readers with a need to know where the market for geosynthetic materials is headed in the next five years. The report's findings and conclusions should also be of interest to readers in government and private companies that operate public infrastructure, as well as the engineering and construction community.
Editors and reporters who wish to speak with the analyst should contact Steven Cumming at steven(dot)cumming(at)bccresearch(dot)com.
About BCC Research
BCC Research publishes market research reports that make organizations worldwide more profitable with intelligence that drives smart business decisions. These reports cover today's major industrial and technology sectors, including emerging markets. For more than 40 years we've helped customers identify new market opportunities with accurate and reliable data and insight, including market sizing, forecasting, industry overviews, and identification of significant trends and key market participants. We partner with analysts who are experts in specific areas of industry and technology, providing unbiased measurements and assessments of global markets. Recently selected as the world's greatest market research company, BCC Research is a unit of Eli Global, LLC. Visit our website at http://www.bccresearch.com. Contact us: (+1) 781-489-7301 (U.S. Eastern Time), or email information(at)bccresearch(dot)com.