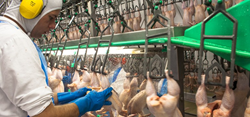 While the wider food manufacturing industry looks at a range of different solutions, we urge manufacturers to remember the basics - good PPE and, in particular, gloves.
Ipswich, United Kingdom (PRWEB UK) 9 June 2015
Personal protective equipment (PPE) suppliers Anchor Safety is urging every poultry food processing company to examine the role of PPE, namely gloves, in reducing cross-contamination. This is in response to the Food Standards Agency's May 2015 report that 73% of shop-bought chickens are contaminated with campylobacter, the UK's most common form of food poisoning.
Every food processing company faces a variety of pressures as they strive to maintain food safety, including intensified supplier scrutiny. As a result, hygiene, testing, and monitoring have become priorities. For the past 18 months, Anchor Safety has been working in cooperation with glove manufacturer, Stalsen and a leading UK food processing company, a poultry producer and processor, to develop a new reusable nitrile glove. The glove tackles the primary challenge for more grip, something that other non latex gloves have failed to provide - at a commercially acceptable price.
"The campylobacter crisis is an issue that the industry needs to act on," says Patrick Tydeman, Sales Director at Anchor Safety. "This new report shows just how vital it is to find better methods to reduce the spread of bacteria. While the wider food manufacturing industry looks at a range of different solutions, we urge every food processing company to remember the basics - good PPE and, in particular, gloves."
"Gloves are by no means the answer to the campylobacter crisis," adds Tydeman "But as food manufacturers handle poultry and attempt to avoid cross-contamination, gloves are an essential hygiene measure. It's important that we all cover the basics. That's why we have invested in a new breed of gloves that are sensitive enough for handling delicate food produce, while being durable enough to handle heavier food products, offering great grip and protection."
The Stalsen Gourmet Grip gloves are highly durable, providing enough grip to be used effectively when handling poultry during all aspects of processing in wet conditions, including handling heavy carcasses. In addition, the gloves are highly resistant to chemicals, enabling them to be worn during wash down procedures. Crucially, it's a high-quality nitrile glove available at an affordable price. This is in line with the British Poultry Council's calls for proven technology to be made more commercially accessible as stated in their article published in 26th February.
As they attempt to reduce contamination issues in the factory setting, food manufacturers are also under increased pressure to eliminate the use of latex. This avoids the risk of harmful allergens finding their way to consumers. With that in mind, Gourmet Grip gloves are also 100% latex-free, made from a unique nitrile rubber that is optimised for the food industry's specific requirements.
The FSA report comes following a year-long study, where 4000 samples were tested. The results show an increase in the presence of the bug, which according to a foodmanufacture.co.uk article from 30th March experts say is likely to increase further through the summer months as temperatures rise.
"The FSA's report is helpful to the industry, in the sense that it makes every food processing company aware of how serious the issue is," says Tydeman. "Now, it's time to take action by looking at existing processes, improving hygiene standards, and equipping people with the right equipment for the job."
To find out more about the Gourmet Grip gloves, visit http://www.anchorsafety.co.uk/gourmet_grip.html