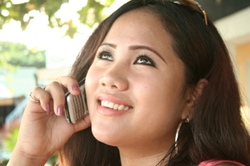 We have been purchasing all our calling cards through LigaProBrasil for several years. They have been able to answer any questions I have, and have provided exceptional service. We are very happy with this company. (Sam on Trustpilot)
Atlanta, Georgia (PRWEB) June 07, 2015
LigaProBrasil.com has been supporting long distance relationships since 2008.
And now Brazilians worldwide get $2 free credit from LigaProBrasil.com to talk more with their long-distance lovers and friends on Dia Dos Enamorados. This extra Voice Credit equals to 153 minutes to call landlines in Brazil or 51 to mobiles there, or a mix of both.
The bonus applies on all Voice Credit orders of minimum $20 on LigaProBrasil.com until June 11th, 2015 (23:59 EST). To get the bonus calling credit, one needs to use coupon XOXOXO (unique usage) when placing the order on this simple form: http://ligaprobrasil.com/buy/voice?destination=Brazil
The campaign addresses anyone holding a free account on LigaProBrasil.com. It only takes a minute to open an account on LigaProBrasil.com before getting some Voice Credit for internatrional calls to Brazil. If one is already a customer, the current Bonus is a loyalty Bonus. For the rest this is a welcoming gift or an encouragement to get 153 minutes extra on the first use of the service.
There are 3 ways to make international calls with LigaProBrasil.com:

from a smartphone using KeepCalling app for Android and iOS
from any phone (old or new generation mobiles, payphones, etc) using access numbers and no Internet connection needed; an access number is the local number in the area the one who makes the call lives, and it is listed on LigaProBrazil.com on How to Call page.
from a computer or laptop using the PC app called Web Call; this app requires no download and can be found in one's online account on LigaProBrasil.com.
Besides the Voice Credit for international calls and SMS, LigaProBrasil.com faciliates mobile credit transfers to mobiles in some other country, from the LigaProBrasil.com online account. Mobile Recharge, as it is known, is the kind of service known as a good option for expats or travelers. It can be quick gift solution or a way to constantly support family and friends in Brazil.
LigaProBrasil.com wishes anyone Feliz Dia dos Namorados and invites all Brazilian expats to use the coupon XOXOXO on their next order of $20 minimum. The coupon brings an extra 153 minutes to landlines or 51 to mobiles in Brazil, or any mix of calls to mobiles and landlines.
To be informed on future promotions, go to LigaProBrasil.com and press "Get offers" button down the page, on the right. If you are not registered with this website, you'll be required to open an account and connect it to an email address. It costs nothing, and it is no hassle. Offers, bonuses and coupons will be sent at that specific address registered when opening the account on LigaProBrazil.com.
Many customers on LigaProBrasil.com point out various benefits on review websites:

No costs to create an account
Paypal and all major payment methods accepted, no matter the currency
Regular promotions
Voice Credit balance never expires
KeepCalling app for international calls
High privacy protection (TRUSTe label)
100% security of transactions (Verified & Secured certificate)
Transparency of service and no hidden fees (BBB accredited)
100% Customer Satisfaction and 24/7 honest and friendly Support (BBB label)
Invoices and activity log available at any time in the online account
Mobile friendly website
Easy to use service
About LigaProBrasil.com:
LigaProBrasil.com is an interactive website designed by KeepCalling, a global telecommunications company registered in 2002 in USA. Presently, KeepCalling provides its services to hundreds of thousands of consumers and businesses, with a focus on customer satisfaction. KeepCalling has been listed by Inc 5000 in top 20 telecom companies in the USA for the last 4 years. In 2014 the company was designated the 18th fastest growing company in the telecommunications industry in USA with a revenue increase of over 600% from 2010 to 2013.