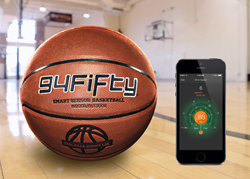 We are proud to be working closely with a Company that we believe will lead innovation not only in China, but also for the rest of the world." Said Mike Crowley, CEO of InfoMotion
Dublin, OH (PRWEB) June 09, 2015
HUPU Sports Media, Ltd., one of China's largest online sports brands, has announced a broad licensing and marketing partnership with InfoMotion Sports Technologies Inc., maker of the award winning 94Fifty Smart Basketball, to bring InfoMotion's technology to Asian markets. The deal will allow both companies to further expand their respective technologies and interactive products throughout Asia, with HUPU Sports receiving exclusive access to the technology for these markets.
Under the agreement, HUPU will promote the Smart Basketball technology under its own brands in China and other parts of Asia including production and distribution of InfoMotion's Smart Sports Ball products. HUPU is one of the largest sports companies in China with over 50 million active app users. The partnership will utilize HUPU's huge user base in China and InfoMotion's unique expertise in sports technologies embodied by its 94Fifty Smart Basketball.
"We are very excited to have completed this deal with InfoMotion," says Shawn Cheng, co-founder and CEO of HUPU Sports Media. "With the combination of both HUPU's and InfoMotion's expertise, we believe that HUPU will continue to build a unique advantage to promote smart solutions in basketball while providing the latest sports products and services to its users."
InfoMotion's 94Fifty Smart Basketball is the only basketball product of its kind in the world. It has received numerous engineering awards over the past two years including being named the top mobile app and software from the International Consumer Electronics Show (CES) as well as being named a Time Magazine top 25 invention of the year. The ball is designed to measure nearly any important skill involved with basketball, including shooting and ball-handing, and includes a SmartNet feature to count makes and misses. Combined with important metrics such as shot release speed, shot arc, and backspin, the ball can rapidly improve skill and connect players anywhere in the world.
"We were extremely impressed by Shawn's vision for HUPU to utilize technology to connect athletes, as well as their bold grass-roots strategy for the Asian market. The decision to partner with HUPU was clearly a win-win for both companies. We are proud to be working closely with a Company that we believe will lead innovation not only in China, but also for the rest of the world." Said Mike Crowley, CEO and Founder of InfoMotion Sports Technologies.
Both Companies expect the HUPU branded basketball to become available to the Chinese market later this year.
About InfoMotion Sports Technologies Inc.
94Fifty® is the basketball brand of InfoMotion Sports Technologies Inc. (IST). InfoMotion® is the world leader for developing and commercializing advanced complex motion software and firmware for the Internet of Things (IoT), including its award-winning Powered by InfoMotion software suite. IST develops its own branded products for some fitness verticals and enables partners with software capabilities for wearable, attachable, and embeddable sensor applications in other industries. More information can be found at http://www.infomotionsports.com, and http://www.94Fifty.com.
About HUPU Sports Media Ltd.
HUPU, founded in 2004, is the leading sports marketing company in China. HUPU provides fully integrated sports marketing strategies to tailor the various needs of its clients around the globe and keep their businesses thriving in today's marketplace. HUPU offers a variety of prestigious services and business solutions including integrated sports marketing, event management, new media services, media distribution, online games and e-commerce, etc.