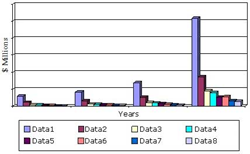 The global haptic technology actuator market is expected to reach $10.3 billion in 2020
Wellesley, Mass. (PRWEB) June 06, 2015
The confluence of haptics technology with mobile devices has multiplied the effect on the market size. It has also triggered enormous interest about how haptics technologies work, and how they can impact the prospects of devices that they are embedded in. BCC Research expects the global haptic technology actuator market to reach $2.7 billion in 2015 and then surge to $10.3 billion in 2020, with an impressive compound annual growth rate (CAGR) of 30.7%.
While aviation, robotics and gaming are the early adopters of haptics, the decisive push was imparted when it broke into the mobile device segment. The uptake of information and communications technology (ICT) products is fuelled primarily by emerging markets once the product reaches a certain maturity level. As mobile devices lead the way in exploration of newer actuation methodologies, they will mature earlier than other applications. The Asia Pacific region dominates most sub-markets of ICT devices, paving the way for its sustained dominance.
"At the broadest level, haptic actuators have graduated from motor-based design to material-based designs. Reliance on materials allows designers to free themselves from the vagaries of power supply variations in characteristics," says BCC Research analyst Shalini Ramamurthy. "Having gotten a freer hand in engineering haptic responses, designers have now focused their attention to fine tuning, calibrating and targeting haptic feedback in order to achieve maximum impact."
Haptic Technology: Applications and Global Markets (IAS101A) will be of value to Eccentric rotating motor (ERM) and linear resonant actuator (LRA) component makers, piezoelectric actuator component makers, electroactive polymer (EAP), fluid-based, electric-charge based and acoustic wave based piezoelectric actuator component makers, semiconductor device experts engaging in haptic driver design, haptic technology IP developers, and other device original equipment manufacturers (OEMs).
Editors and reporters who wish to speak with the analyst should contact Steven Cumming at steven(dot)cumming(at)bccresearch(dot)com.
About BCC Research
BCC Research publishes market research reports that make organizations worldwide more profitable with intelligence that drives smart business decisions. These reports cover today's major industrial and technology sectors, including emerging markets. For more than 40 years we've helped customers identify new market opportunities with accurate and reliable data and insight, including market sizing, forecasting, industry overviews, and identification of significant trends and key market participants. We partner with analysts who are experts in specific areas of industry and technology, providing unbiased measurements and assessments of global markets. Recently selected as the world's greatest market research company, BCC Research is a unit of Eli Global, LLC. Visit our website at http://www.bccresearch.com. Contact us: (+1) 781-489-7301 (U.S. Eastern Time), or email information(at)bccresearch(dot)com.