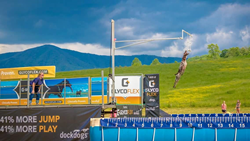 Glyco Flex® is so pleased to be sponsoring DockDogs this year. The energy and enthusiasm from the participants only makes us more excited about the work we do! ~ Adrienne B (Assistant Brand Manager, VetriScience)
Essex Junction, VT (PRWEB) June 05, 2015
Glyco Flex® Joint Support Announces June DockDogs Events
Premier canine aquatics competition coming to Virginia, Indiana, Iowa, Tennessee in June.
VetriScience® Laboratories, the makers of Glyco Flex®, are happy to announce the next four Glyco Flex ® sponsored Dock Dogs events.
The first Glyco® Flex/DockDogs event in June takes place at the Celebrate Fairfax Festival in Fairfax, VA June 6 and 7. Dog-A-Palooza in Fair Oaks, IN premiers the athletic competition on the weekend of June 13.
On June 19 - 21, DockDogs' Glyco Flex® rig lands at the Freedom Festival in Cedar Rapids, IA. It will end the month at Summer on Broadway in Maryville, TN.
To register for any of the events, email registration(at)dockdogs(dot)com or call 330-241-4975.
As the pioneer joint supplement for dogs and the premier canine aquatics competition respectively, Glyco Flex® and DockDogs have formed a natural partnership. Glyco Flex® supports several, individual Dock Dogs' teams. With a commitment to the pool rig and team health in 2015 events, Glyco Flex® has taken its sponsorship and participation to the next level.
Glyco Flex® is recommended for working dogs, senior dogs, active dogs –and any dog in need of advanced joint support. It is formulated to alleviate joint discomfort, support mobility, and address the wear and tear of everyday activity, helping DockDogs of every size stay on the circuit.
For more information about DockDogs, visit http://www.dockdogs.com. For more information about Glyco Flex®, visit http://www.glycoflex.com.