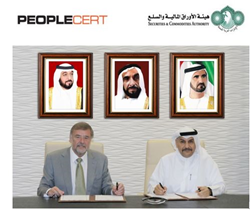 (PRWEB) June 06, 2015
The Securities and Commodities Authority (SCA) signed an MOU with PEOPLECERT International Limited to promote mutual cooperation in professional qualification. H.E. Abdulla Al Turifi, CEO of SCA, signed the MOU on behalf of SCA with David H. Grinham, Chairman of PEOPLECERT UK.
The objective of the MOU is to make use of the training and qualification programs provided by PEOPLECERT for the purpose of developing capital markets and the financial services industry in general, and improving the standards of professional performance for those working in this field in particular.
Following the signing of the MOU, Al Turifi noted that "SCA is constantly trying to develop the performance of its training center and promote its efforts aimed at developing the performance of those working in the financial services industry. Signing the MOU came to make use of the expertise of PEOPLECERT International Limited in exam delivery, exam booking and registration engines, e-payment portals, exam delivery methods, instantaneous and automated exam marking, and certificate issuance. PEOPLECERT has delivered millions of exams across 140 countries".
For his part, Grinham said: "today's MoU with the prestigious SCA marks an important milestone in the collaboration between our two organizations and fits well within PEOPLECERT's strategy to focus on serving Middle Eastern authorities across different industry sectors. The global financial services industry is very important to the UAE and SCA plays a vital role in ensuring a healthy and well-regulated industry within the country. PEOPLECERT's international reputation as a leader in the test development and delivery industry has attracted many distinguished private sector and public sector organizations to our cutting edge services and we are delighted to be working with SCA".
Bilal B. Sabouni, Managing Director for Middle East, Africa, & Asia, added "with our newly-established regional office in Dubai, we will collaborate on several areas related to testing and certification of professionals across the country. This includes establishing PEOPLECERT Test Centers within SCA premises for delivery of select international exams and working together to develop brand new certification and licensure frameworks to be delivered under SCA's authority. Our international expertise and flexible local approach has proven to be a winning formula in creating true partnerships across the Middle East".
The MOU lays the foundations for mutual cooperation between the two parties to explore opportunities to establish, manage, or sponsor professional exams related to the development of capital markets, the financial services industry, and investment in the United Arab Emirates in general.
The parties agree under the MOU to:
1. Explore the possibilities of creating certification and licensure assessments using the technology and expertise of PEOPLECERT.
2. Facilitate the establishment of PEOPLECERT Test Centers at SCA premises across the UAE.
3. Jointly promote and deliver professional exams related to investment, finance, and securities-related certifications.
4. Coordinate and facilitate the adoption of new assessments, which serve the strategic objective of both parties.
About PEOPLECERT
PEOPLECERT International Limited, a leader in the global certification and assessment industry, has built a wide experience in building and managing global large-scale assessment schemes, as well as providing end-to-end certification and licensure services to leading private sector organizations and public sector authorities. PEOPLECERT has partners around the world.