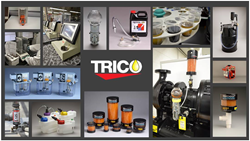 It has often been said in business, people are your greatest asset. In the case of IEUA this phrase couldn't be more accurate. By improving reliability programs IEUA shows its total commitment to its customers.
Pewaukee, Wisconsin (PRWEB) June 07, 2015
Trico Corporation and Inland Empire, one of the largest water reclamation agencies in the US, team up in terms of reliability and risk management by training together. Trico Corporation and Inland Empire have worked side by side to improve reliability in the water utilities' critical equipment for a number of years. This training is another step towards the goal of ultra-reliable service to Inland Empire's customers. Trico has assisted Inland Empire in raising the bar of the condition based monitoring program by providing products and consulting in the improvement of reliability.
The MLT1 or Machinery Lubrication Technician – Level 1 certification is a reflection of an individual's dedication to quality lubrication practices and an organizations commitment to its reliability programs. The certification is administered and accredited by the International Council for Machinery Lubrication (ICML).
The MLT1 provides tremendous value to maintainers in that it encompasses best practices designed to extend and prolong the life of critical equipment. Topics include:

Maintenance Strategy
Lubrication Theory
Lubricants
Lubricant Selection
Lubricant Application
Preventive and Predictive Maintenance
Lube Condition Control
Lube Storage and Management
Inland Empire Utilities Agency http://www.ieua.org
(IEUA/Agency) is a regional wastewater treatment agency and wholesale distributor of imported water. Today, the Agency is responsible for serving approximately 830,000 people over 242 square miles in western San Bernardino County, California. The Agency is focused on providing three key services: (1) treating wastewater, developing recycled water, local water resources, and conservation programs to reduce the region's dependence on imported water supplies and drought-proof the service area; (2) converting biosolids and waste products into a high-quality compost made from recycled materials; and (3) generating electrical energy from renewable sources.
Inland Empire has a mission statement which reads: Inland Empire Utilities Agency is committed to meeting the needs of the region by providing essential services in a regionally planned and cost effective manner while safeguarding public health, promoting economic development, and protecting the environment.
Members of Inland Empire that are now MLT1 Certified include those in operations, maintenance, and engineering. Those who've passed include Nelson Delgado, David B. Choi, Chandler Letulle, Larry Lucas, John Thomas Mills, Eric Spaeth, Jose Luis Catalan.
Members of Trico who are now MLT1 Certified include Pedro Perez, German Uzcatagui, Mike Brandt, and Rudy McCormick. Trico team members include those in sales, account management, and marketing.
About Trico http://www.tricocorp.com
Trico is a lubrication management organization which has a full line of products that assists plant maintainers in many varieties of industries from military, aerospace, food, energy, pharmaceutical, mining, and others. Trico products can be found globally via distributors in 180 countries. Trico also offers lubrication management training where companies can learn the proper methodology for maintaining critical rotating equipment using lubricants. Trico also operates the leading commercial oil analysis laboratory at its Pewaukee, WI location.
The full Trico offering includes:
Services Products

Training and Mentoring
In-Plant Services
Oil Analysis Services
Lubrication Management Solutions • Storage, Handling & Identification
Contamination Control
Oil Sampling
Lubrication & Re-lubrication
Grease Lubrication
Visual Inspection
Central Lubrication
Metalworking
Lab Instrumentation
# # #
If you would like more information about this topic, please contact Rudy McCormick at 262-229-7707 or email at rmccormick(at)tricocorp(dot)com.