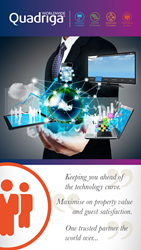 Theale, United Kingdom (PRWEB UK) 8 June 2015
The Hospitality Industry Technology Exposition & Conference (HITEC) offers a unique combination of leading hospitality technology and education and will be held at the Austin Convention Centre in Texas from 15-18th June 2015.
Quadriga Worldwide will be in attendance throughout the event, demonstrating their various guest-optimised Communication and WiFi solutions, as well as unveiling new products including 4K capabilities in hotel rooms.
The real highlight of the show will be the launch of Quadriga's new Set Top Box driving true innovation in the hospitality market. The new Ultra High Definition-ready Set Top Box with WiFi client delivers a step change for in-room entertainment choice, on-screen navigation and property presentation.
Quadriga will also showcase their current market leading, in room entertainment solution Sensiq with its enhanced software and hardware capabilities, which answer the desire for more hotels to not only bring a new level of entertainment and information experience to guests, but also the need to drive business objectives and deliver greater revenue opportunities.
Roger Taylor, CEO for Quadriga explains, "We are showing a new, more powerful Set Top Box with a smaller form factor at HITEC. When it comes to software, we are focusing on UI customisation capabilities. While I believe our system is the most flexible and most powerful in terms of the UI experience, we want to further improve it and give it more power, to create a fresh, regularly changing guest user interface. The STB will also offer a dynamic IPG and streaming capabilities via the likes of Miracast, due to the growing trend of BYOD in the hospitality industry."
CEO of Quadriga Americas, Chris Sophinos, comments. "You'll see some breakthroughs here on the Quadriga booth, a better integration of WiFi technology with the hardware and software. It's a managed service, allowing the hotelier to learn more about the guest experience - how many devices are being used in a room, where the guest travels and whether he wants to stay connected in the common areas. The management for both bandwidth and usage, and their integration are important changes for 2015."
Quadriga Worldwide will be present HITEC 2015 from 15-18th June. Visit us at Booth 2229
For more information, please visit http://www.quadriga.com
==Ends==
About Quadriga
Quadriga is a leading international provider of guest technology managed services for the hospitality industry and our commitment is to maximise a customers' on-property value and guest satisfaction
Quadriga provides customers with the flexibility and reassurance that they can obtain a complete, accessible and relevant guest technology solution that meets their business revenue, guest satisfaction and operational efficiency targets, all from a single, financially robust partner. Our value proposition is to provide technology solutions which enable customers to:

Connect with your guests – and guests with the hotel and their world
Control the guest experience and your network and TV environment
Commercialise new business and revenue opportunities
This value is delivered via a 360º integrated and managed service approach to design, build and manage a complete network and technology ecosystem focussed on the needs of hospitality and guests.
Quadriga offers a single point of contact for a range of managed services covering Networks, WiFi, Hospitality TVs, Interactive TV & Mobile platforms and Financial Services. These integrate multiple hardware and software components, proprietary to Quadriga or via 'best-in-class' partners, with an unrivalled range of multimedia content solutions and expert operational and professional services.
Quadriga has more than 30 years experience serving the hospitality sector and operates in the key strategic geographies of USA, Europe, Middle East and Africa, supporting more than 300,000 guest rooms including 100,000 with HSIA. The company has unrivalled knowledge and approaching 15 years experience in managing hotel networks, Internet provision, digital IP systems and delivering IP over coax networks.
Quadriga will continue to leverage its capabilities, its partnerships and deep knowledge of the hospitality sector to create solutions that harness the latest technologies and meet ever- evolving customer business needs and guest expectations.
Press Contact
Vicky Daniels
Group Marketing Manager
Quadriga Worldwide Ltd
Telephone - +44 (0) 118 916 7181
Email - Vicky.Daniels(at)quadriga(dot)com