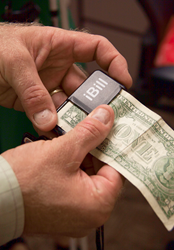 "It is a great privilege to be able to help Veterans with visual conditions meet their visual goals and maintain their independence," said the clinic's optometrist Dr. Lindsey Lear. "We are grateful for their trust in our service."
PITTSBURGH (PRWEB) June 05, 2015
VA Pittsburgh's Intermediate Low Vision Clinic achieved three-year accreditation in May by the Commission on Accreditation of Rehabilitation Facilities (CARF). The commission listed 19 of the clinic's programmatic strengths and best practices in granting the three-year versus the customary one-year accreditation for first-time program applicants.
"The clinic clearly enjoys addressing the needs of Veterans who are experiencing vision loss—it is their top priority," said Dr. Derek Coughenour, VA Pittsburgh's Director of Rehabilitation, who oversees the clinic. "The team has created an outstanding system of comprehensive care to ensure the needs of Veterans are met."
In their report, CARF evaluators commended the clinic for using a comprehensive system for collecting and analyzing feedback from Veterans and stakeholders to improve services. They also cited their strong safety policy and practices and for quickly acting on areas in need of improvement.
"Achieving CARF accreditation is validation that our team has strengthened and developed a low vision program that is individualized, innovative, and client-centered," said Dr. Amy Rebovich, the low vision clinic's therapy specialist. "Our goal for the future is to continue to enhance quality of care by focusing on the self-perceived satisfaction goals of Veterans and empowering them to be confident, independent and, ultimately, increase their quality of life."
This is the third CARF accreditation for Pittsburgh's Physical Medicine and Rehabilitation (PM&R) service line. Their Intensive Rehab and Interdisciplinary Pain Rehabilitation programs gained three-year accreditation in 2013 and 2014, respectively.
"We use the CARF standards as a framework for continuous quality improvement and in ensuring that opportunities provided to the Veterans are valued and of high quality," said Coughenour.
The combined accreditations will benefit hundreds of Veterans who see PM&R providers every month, he said.
"It is a great privilege to be able to help Veterans with visual conditions meet their visual goals and maintain their independence," said the clinic's optometrist Dr. Lindsey Lear. "We are grateful for their trust in our service."
For more information contact Sheila Tunney, Public Affairs Specialist at sheila(dot)tunney(at)va(dot)gov or 412-360-1479 or Shelley Nulph at 412-822-3536 or Shelley(dot)Nulph(at)va(dot)gov.
About VA Pittsburgh
VA Pittsburgh Healthcare System is one of the largest and most progressive VA medical centers in the country and serves more than 66,000 Veterans annually.