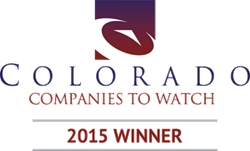 I am extremely proud of the team and our passionate focus on building a strong company based on values of hard work, trust, and compassion.
Englewood, CO (PRWEB) June 08, 2015
Lewis Fowler announced today that it has been named a 2015 Colorado Companies to Watch award winner. This prestigious award recognizes Lewis Fowler's positive influence and accomplishments, both in the private and public sectors, by providing exceptional management consulting services to Fortune 500 clients while also actively supporting local philanthropic causes.
"We are excited to have been named a Colorado Company to Watch winner. This award validates all the time, energy and commitment the Lewis Fowler team has invested in our clients and local communities," said Managing Partner, Amy Fowler Stadler. Fellow Managing Partner, Kevin Lewis, added, "I am extremely proud of the team and our passionate focus on building a strong company based on values of hard work, trust, and compassion."
"We are pleased to recognize Lewis Fowler for their outstanding contribution in fueling the economic fire of Colorado. Thank you Lewis Fowler," says David Tolson, Colorado Companies to Watch Board Chairman.
Colorado Companies to Watch works to recognize the driving economic forces in the state by focusing not merely on growth, but on the true impact and influence of an organization. By focusing on second stage companies across the state, the program offers distinct insight into the state's economic landscape and recognizes organizations often overlooked for the critical impact they have in their industries, communities and regions, as well as our state as a whole.
About Lewis Fowler
A trusted partner for Fortune 500 companies, Lewis Fowler has an established track record of delivering innovative solutions that help realize corporate strategies. Founded in 2002 and headquartered in Englewood, Lewis Fowler is a management consulting firm that provides best in class program and project execution for enterprise level companies. Lewis Fowler's expert team aligns people, process, and technology to implement strategy and build sustainable value for their clients. Learn more about Lewis Fowler at http://www.lewisfowler.com.
About Colorado Companies to Watch
Colorado Companies to Watch (http://www.ColoradoCompaniestoWatch.org) is a unique statewide awards program recognizing growing companies that fuel the economic fire of the state. Colorado Companies to Watch honors 2nd stage companies that develop products and services, create quality jobs, enrich communities and launch new industries throughout Colorado. The Colorado Office of Economic Development and International Trade launched the program in 2009 in conjunction with the Edward Lowe Foundation and valuable community partners from across Colorado.