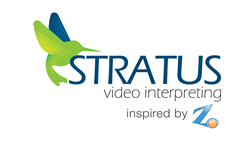 While the proposed CFPB Language Access Plan pertains only to financial products and services, it represents an important step toward inclusivity by acknowledging and addressing the needs of America's LEP population.
Clearwater, FL (PRWEB) June 05, 2015
To address America's growing linguistic diversity, the Consumer Financial Protection Bureau (CFPB) announced a proposed Language Access Plan that is designed to help the limited English proficient (LEP) population gain meaningful access to its programs and services (1). Stratus Video Interpreting, a leading provider of on-demand interpretation services, applauds these efforts to support America's LEP consumers and advises other organizations to model their own language access initiatives after the proposed CFPB plan.
The Center for American Progress recently expressed its support for the CFPB plan, citing government statistics that demonstrate the extent of America's ethnic and linguistic diversity (1). According to an analysis of U.S. Census Bureau records, a high proportion of certain ethnic groups speak a language other than English at home, including up to 77% of Asian Americans, 75% of Latinos, 43% of Native Hawaiians and Pacific Islanders, and 28% of American Indians and Alaskan Natives (2). As of 2013, a record 61.8 million U.S. residents—one in five people—spoke a language other than English at home (3). That percentage has nearly doubled since 1980, rising from 11% to 21%; and while many of those individuals are proficient in English, 25.1 million reportedly speak English less than "very well" and are therefore considered LEP (3).
Among the driving factors behind the CFPB's Language Access Plan were concerns that LEP individuals face barriers to financial literacy and are more susceptible to fraudulent and predatory practices. The CFPB intends to implement a number of measures to ensure that LEP consumers have meaningful access to its services; these include maintaining a Language Access Task Force, handling complaints from LEP consumers concerning financial products or services, incorporating translation and interpretation in CFPB supervision and enforcement, informing and educating LEP consumers in the financial marketplace, supporting digital offerings in multiple languages, and expanding outreach and engagement among LEP individuals (4).
"While the proposed CFPB Language Access Plan pertains only to financial products and services, it represents an important step toward inclusivity by acknowledging and addressing the needs of America's LEP population," said David Fetterolf, President of Stratus Video Interpreting. Fetterolf praises the CFPB for building on the protections afforded by Title VI of the Civil Rights Act and Executive Order 13166, which require meaningful access to federally conducted activities and federally funded programs for individuals with limited English proficiency. "Evidence shows that there is a clear and growing need for translation and interpretation services across all facets of society, from government programs and the legal system to healthcare and business. We've reached the point where equal language access is no longer an option but a necessity."
Fetterolf urges companies to take a proactive stance in meeting the needs of LEP individuals rather than waiting until a consumer complaint, federal investigation or lawsuit requires them to do so; and he recommends looking to the CFPB Language Access Plan as a blueprint. "There is no need for organizations to risk fines, lawsuits or bad publicity when on-demand interpretation services are readily available and affordable," he explained. "At Stratus, we're committed to providing the most efficient and cost-effective interpretation services possible. We have a history of successful implementations in healthcare, courts and government agencies that our clients can reference when establishing their own language-access programs."
Stratus offers video remote interpreting (VRI) services for many of the most commonly spoken languages among America's LEP population—including Spanish, Chinese (both Cantonese and Mandarin), Vietnamese, Korean, French, Arabic, Russian, Portuguese, Polish, Bosnian, Haitian Creole, Somali and Nepali—as well as American Sign Language. The company also provides over-the-phone interpretation services in nearly 200 languages. All Stratus interpreters are highly trained and hold relevant certifications; and since the company's on-demand services are billed by the minute, clients pay only for what they use.
For more information on Stratus and its video remote interpreting services for limited English proficient individuals, visit http://www.stratusvideo.com.
About Stratus Video Interpreting:
Stratus Video Interpreting provides on-demand interpreter services by using technology to connect clients with interpreters in over 175 spoken and signed languages in less than 30 seconds. Stratus' cloud-based video solution delivers an array of unique features to virtually any Internet-enabled PC, Mac, smartphone or tablet. Stratus clients use the technology to connect with their own staff interpreters, as well as with Stratus interpreters, who have years of healthcare and courtroom experience and hold multiple certifications. With Stratus, state-of-the-art video remote interpreting is made available with virtually no capital investment. Stratus averages 65,000 video calls a day, up from 40,000 in mid-2013. Stratus Video is the sister company of The Z® (CSDVRS, LLC, dba ZVRS), which was established in 2006 and developed by and for deaf and hard-of-hearing individuals, setting the industry standard as the nation's premier Video Relay Service Provider and the first VRS Provider to receive a 5-year certification from the FCC. In 2014, Stratus was recognized as one of the fastest-growing privately held companies, ranking #3,827 on Inc. magazine's Inc. 5000 list. For more information, visit http://www.stratusvideo.com.
1. Zonta, Michela and Joe Valenti. "Language Access Is a Consumer Protection Issue"; Center for American Progress; April 17, 2015. americanprogress.org/issues/housing/news/2015/04/17/111365/language-access-is-a-consumer-protection-issue/
2. Ramakrishnan, Karthick and Farah Z. Ahmad. State of Asian Americans and Pacific Islanders Series: A Multifaceted Portrait of a Growing Population; September 2014. cdn.americanprogress.org/wp-content/uploads/2014/04/AAPIReport-comp.pdf
3. Zeigler, Karen and Steven A. Camarota. One in Five U.S. Residents Speaks Foreign Language at Home, Record 61.8 Million; Center for Immigration Studies; October 2014. cis.org/record-one-in-five-us-residents-speaks-language-other-than-english-at-home
4. Consumer Financial Protection Bureau. "Proposed Language Access Plan for the Consumer Financial Protection Bureau"; notice posted on the Federal Register; October 8, 2014. federalregister.gov/articles/2014/10/08/2014-24122/proposed-language-access-plan-for-the-consumer-financial-protection-bureau