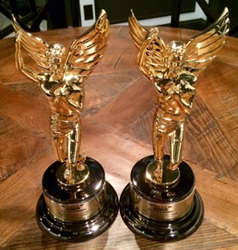 "It is exciting to be recognized by a national awards competition. We are proud of the work that we create for our clients and delighted that the Hermes judges recognize that it is both creative and effective
Atlanta (PRWEB) June 05, 2015
The marketing, interactive, and communication agency won awards for a Pinterest campaign for luxury home builder Traton Homes, a website built for North Star Finance, a company providing debt funding for the building industry.
Carol Morgan, managing partner with mRELEVANCE, states, "It is exciting to be recognized by a national awards competition. We are proud of the work that we create for our clients and delighted that the Hermes judges recognize that it is both creative and effective."
For the Traton Homes Pinterest Perfect Model Home interactive social media campaign, mRELEVANCE utilized Pinterest to increase followers and, ultimately, sell more homes. Using cross-promotion with other social media platforms such as Facebook and Twitter, mRELEVANCE increased overall participation in the campaign. The campaign resulted in 170 new Pinterest followers, which was an 88 percent increase, and 290 Facebook likes, which was a 20 percent increase. Traton Homes sold out of all available inventory homes at Lafayette Square by the end of the Pinterest Perfect Model Home campaign.
The North Star Finance website was built to facilitate a user-friendly loan application process for the building industry. mRELEVANCE optimized the blog and website to be mobile-friendly, so information about products and loans were readily available and easily accessible to website visitors. Within the first 120 days, the website exceeded expectations with 6,843 page views and 2,223 unique sessions.
mRELEVANCE, LLC received an honorable mention for a social media campaign created and executed for Keystone Custom Homes. The "Say I Do to Your New Home" campaign was an interactive Pinterest contest designed to promote the Keystone Custom Homes' wedding program. The contest ran for 52 days and resulted in 107 new followers to the KCH Pinterest page, 380 followers to the contest board, 50 contest entries and 121 new likes to the KCH Facebook page.
The Hermes Creative Awards contains a total of 195 award categories and has grown to be one of the largest creative award competitions in the world. The Hermes Creative Awards mission is to honor excellence and recognize the creativity, hard work and generosity of marketing and communication professionals.
For more information about mRELEVANCE, LLC or its Hermes Creative Awards entries, visit http://www.MarketingRELEVANCE.com/news.
About Marketing RELEVANCE: mRELEVANCE, LLC creates relevant marketing and communications that reach audiences with focused and strategic messages. Through technology and creative content, messages are delivered to target markets to encourage customer action and interaction.
With offices in Atlanta and Chicago, mRELEVANCE can connect your company with buyers and build relevant relationships nationwide. For more information, visit http://www.MarketingRELEVANCE.com, Like us on Facebook at http://www.Facebook.com/mRELEVANCE, Follow us on Twitter at @mRELEVANCE or call 770-383-3360 or 847-259-7312.