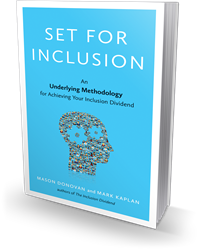 We see diversity and inclusion as a business investment.
Boston, MA (PRWEB) June 09, 2015
SET FOR INCLUSION: An Underlying Methodology for Achieving Your Inclusion Dividend by Mason Donovan and Mark Kaplan (Bibliomotion, June 9, 2015).
Over the past forty years, one of the biggest challenges for organizations has been integrating inclusiveness into practical day-to-day leadership. In The Inclusion Dividend (Bibliomotion, 2013) authors Mark Kaplan and Mason Donovan made the case for inclusive leadership as a measurable investment to an organization: it shows up in the bottom line and in other quantifiable results.
In their newest book, SET FOR INCLUSION: An Underlying Methodology for Achieving Your Inclusion Dividend (Bibliomotion, June 9, 2015) Donovan and Kaplan take that one step further by guiding leaders through the application of a framework to lead inclusively. With the current research on unconscious bias and insider-outsider dynamics outlined in The Inclusion Dividend, SET FOR INCLUSION focuses on how to translate current research into best practices for leaders.
"We believe that the development of diversity and inclusion should be practical, be immediately applicable, and provide a measurable return," they write. These are the principles to provide a foundation for the SET Model: Self-Awareness, System, and Tailor.
Using these pillars as a guide, the book follows the stories of three diverse characters in a large modern organization: a top executive, a middle manager, and an individual contributor. Each of these characters works to make inclusiveness real, to provide tangible benefits for them as individuals, and for the organization. The characters, and their stories, reflect the authors' many decades of experience working with middle and senior level managers in a variety of Fortune 1000 companies.
"We see diversity and inclusion as a business investment. Awareness is necessary but not sufficient. Today's D&I conversation needs to focus on practical application with short- and long-term impact."
About the Authors
Mason Donovan is Managing Partner at The Dagoba Group, a New England based diversity and inclusion consultancy that specializes in leadership development, unconscious bias and inclusion dynamics. Prior to that, Mason was Managing Director of Client Solutions for Personified, a human capital consulting firm. He has spent more than a decade consulting clients in the areas of talent acquisition, performance management, and leading inclusive teams. Mason holds a long list of sales achievement awards for direct sales and sales management. He believes diversity and inclusion is a marketplace differentiator. He has consulted with over half of Fortune 1000 global companies on talent acquisition and management initiatives. Mason has also represented the US Government and the State of Florida on a commercial and diplomatic basis in EMEA.
Mason is the co-author of The Inclusion Dividend: Why Investing in Diversity & Inclusion Pays Off and the author of DRIVEN: A Manager's Field Guide to Sales Team Optimization. He frequently serves as a speaker and panelist on a wide range of topics, and is often interviewed for client engagement strategy. Mason earned a MA in International Business from Webster University in The Netherlands and a BA in International Relations from University of Mary Washington in Virginia.
Mark Kaplan was the CEO of MGK Consulting before becoming a principal for The Dagoba Group. He has been consulting since 1986 and has advised organizations in the areas of management development, executive coaching, team building and group dynamics, organizational assessment, and diversity management, assessment and strategy development. Mark has worked with global Fortune 1000 corporations, non-profits and small business organizations. He has worked on five continents, in many environments, and with all levels of management.
Mark is the co-author of The Inclusion Dividend: Why Investing in Diversity and Inclusion Pays Off and has been published in leading Diversity publications. He is a guest speaker at globally focused conferences and is often quoted in international business and industry trade publications.
Mark earned his Masters in HR Development from Villanova University and a Bachelors degree in Psychology from the University of Florida. He holds many certifications including Organization and Systems Development from the Gestalt Institute.
Praise for SET for Inclusion
"SET for Inclusion provides a very realistic methodology for instilling diversity and inclusion concepts into everyday work life decisions. A must read for management strive to move beyond awareness." – Lisa Barnum, Director, Inclusion and Equal Opportunity, the Aerospace Corporation
"Donovan and Kaplan have again produced a very practical and actionable plan for inclusion. SET for Inclusion provides a simplified approach that delivers high impact." – Wema Hoover, Global Diversity & Inclusion Leader, Pfizer
"Whether you sit in the C-Suite, are in the world of middle management, or are an individual contributor, SET for Inclusion illustrates how easily you can own inclusion in your work space with simple and practical actions. A perfect companion to The Inclusion Dividend." – Amy Goldstein, Senior Director, J. Crew
About Bibliomotion:
Bibliomotion is a book publishing house designed for the new publishing landscape. While many publishers work to retrofit old processes for new realities, Bibliomotion was founded by book-industry veterans who believe the best approach is a fresh one – one that focuses on empowering authors and serving readers above all else. Moving away from the top-down model that has dominated the publishing process for years, we give each member of the team – including the author – a seat at the table from the very beginning and in doing so, work side-by-side to launch and sell the best content possible, making it available in a variety of forms.