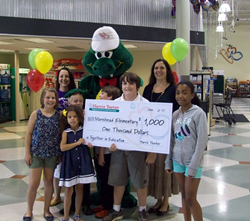 Matthews, N.C. (PRWEB) June 05, 2015
Friday, June 5, 2015, Harris Teeter Store Manager Jeri Stevens presented Morehead Elementary School with a $1,000 check to support the company's commitment to educational programs. This donation was made possible by the North Carolina Education Lottery and is in addition to the dollars a school receives from Harris Teeter through its active participation in the company's Together in Education program.
Harris Teeter Together in Education, similar to the North Carolina Education Lottery, raises money for education initiatives to boost returns for education throughout North Carolina. The North Carolina Education Lottery provides incentive payments to retailers who sell big-winning tickets and to those who win specific retailer promotions. Harris Teeter has chosen to donate its incentive awards back to local schools. This most recent $1,000 incentive award comes from the store winning a bonus after exhibiting a sales increase in the Week For Life suite of scratch-off games.
"Morehead Elementary is so grateful for the incredible support we receive from our PTA and community businesses like Harris Teeter," said Morehead Principal Shirley Stipe-Zendle.
"This donation will allow us to continue programs in our school and community as our students apply what they learn to real-life situations while also improving the lives of our neighbors through the arts," she added.
Harris Teeter rolled out lottery ticket sales in its North Carolina stores starting in fall 2010 after successful implementation at five initial locations. In addition to the funds raised for education, the new technology provided by the North Carolina Education Lottery machines led the company to move forward and make the service available to its shoppers. The machines will not accept money or dispense tickets until the buyer scans a driver's license or state-issued identification card to verify appropriate age to purchase a lottery ticket.
Since March 2006, the N.C. Education Lottery has raised more than $3.8 billion for education programs in the state. Harris Teeter received the $1,000 incentive payment for their participation in the Week For Life Retailer promotion. The cost of Week for Life scratch-off games range from $1 to $10.
To learn more about the North Carolina Education Lottery and Harris Teeter, visit http://www.nc-educationlottery.org and http://www.harristeeter.com.