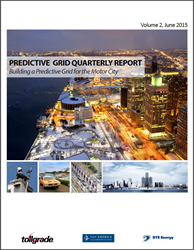 Tollgrade and DTE Energy are committed to establishing a benchmark for a new and innovative process to make the grid more reliable
Reston, VA (PRWEB) June 08, 2015
Tollgrade Communications, Inc., the industry leader in redefining the global standard for reliability at the world's largest electric utilities and telecommunications providers, today shared its latest findings on its grid modernization project with DTE Energy to predict power outages before they occur, in a second Predictive Grid Quarterly Report now available for download.
It is estimated that U.S businesses lose on average $15,709 every 30 minutes during a power outage. These losses add up quickly and annually cost the U.S. $104 billion to $164 billion nationwide, say analysts. Another $15 billion to $20 billion is lost annually due to power quality disturbances such as "momentaries," short outages that cause clocks to blink, computers to lose their data or manufacturing lines to stop unexpectedly, damaging equipment.
"Our nation's electricity grid infrastructure is beginning to break down, causing at times substantial power outages. Predicting and preparing for these outages could save the community and businesses in Detroit millions of dollars annually," said Edward H. Kennedy, President and CEO, Tollgrade Communications, Inc. "With these Predictive Grid Reports, we plan to benchmark DTE Energy's best practice so they are valuable to the entire energy industry and practical for other utilities to use."
The Tollgrade LightHouse® platform is the only solution to provide advanced detection of outages by classifying and detecting "power line disturbance" events and momentaries. Using the data, utilities can predict outages to avoid them or, during bad weather when outages are unavoidable, get the lights back on faster.
To modernize its grid, DTE Energy is deploying Tollgrade LightHouse Smart Grid Sensors with the goal of preventing and reducing the length of power outages throughout the Detroit metropolitan area over the next two years. This is the second of eight reports to be released under Tollgrade's Clinton Global Initiative (CGI) comprehensive grid modernization project with DTE Energy entitled, "Building a Predictive Grid for the Motor City."
In last quarter's report, Predictive Grid Report Volume 1, "line disturbances," which are short-lived fault events that do not trip protection devices or typically raise alarms, were identified as a tell-tale sign that an outage or asset failure may occur. This second Predictive Grid Report stresses once again the importance of those disturbances. The report provides a compelling real life example of Tollgrade's LightHouse Smart Grid sensors assisting another large utility in the northeast U.S which identifies the cause of flickering lights to several hundred customers. The LightHouse solution discovered the root cause of the problem within days of the LightHouse Sensors being deployed on the power lines.
"Tollgrade and DTE Energy are committed to establishing a benchmark for a new and innovative process to make the grid more reliable," said Vince Dow, DTE vice president, Distribution Operations. "The idea is to utilize LightHouse sensors and analytics to begin to identify outages before they occur and minimize the impact of aging infrastructure on our distribution grid."
For more information about the Tollgrade LightHouse solution, please contact GetLightHouse(at)tollgrade(dot)com or download the report today.
About Tollgrade
With more than 200 million lines under test, millions of utility outage minutes avoided annually and 25 years of experience successfully locating faults at the world's largest electric utility companies and telecommunication service providers, Tollgrade is redefining the global standard for reliability. Our award-winning fault detection hardware and predictive analytics software are deployed on four continents to help operators avoid network outages and reduce customer downtime. Since 2013, Tollgrade has won more than twelve awards, established itself as the world's market share leader of smart grid sensors and was recognized by President Bill Clinton for a Commitment of Action to build a "Predictive Grid in the Motor City" with DTE Energy in Detroit. To learn more about Tollgrade, visit http://www.tollgrade.com or read more about the benefits of grid modernization on our blog.
About Clinton Global Initiative America
The Clinton Global Initiative (CGI), an initiative of the Clinton Foundation, convenes global leaders to create and implement solutions to the world's most pressing challenges. Established in June 2011 by President Bill Clinton, the Clinton Global Initiative America (CGI America) addresses economic recovery in the United States. CGI America brings together leaders in business, government, and civil society to generate and implement commitments to create jobs, stimulate economic growth, foster innovation, and support workforce development in the United States. Since its first meeting, CGI America participants have made more than 400 commitments, which have improved the lives of nearly 1.4 million people.
CGI also convenes an Annual Meeting, which brings together global leaders to take action and create positive social change, CGI University (CGI U), which brings together undergraduate and graduate students to address pressing challenges in their community or around the world, and, this year, CGI will also convene CGI Middle East & Africa, which will bring together leaders across sectors to take action on pressing social, economic, and environmental challenges. For more information, visit clintonglobalinitiative.org and follow us on Twitter @ClintonGlobal and Facebook at facebook.com/clintonglobalinitiative.
Tollgrade Media Contacts:
Anne-Laure Leroyer
Marketing Director
Tollgrade Communications, Inc.
+1 202-701-0083 (mobile)
ALeroyer(at)tollgrade(dot)com
UK
Marcus Edgar
Resonates SLM Ltd
Newbury, Berkshire
t. +44 (0)1635 898 363
m. +44 (0)7810 876 077
e. marcus(at)resonates(dot)com