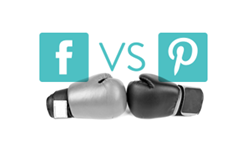 Jirafe analyzed 80,000 brands and hands down Facebook is the clear winner in terms of traffic, revenue, and orders.
New York, NY (PRWEB) June 08, 2015
June 8, 2015 - Jirafe Inc, the leading provider of commerce intelligence data that enables merchants to uncover revenue opportunities, announced today the findings of a five-month study assessing the impact of Pinterest and Facebook across their merchant base.
"Pinterest just announced its buy button, and Facebook is working on theirs and they added buy functionality to Instagram. Our merchants have been asking us where they even start with implementing it," said Amit Shah, CEO of Jirafe, Inc. "They all review their Customer Lifetime Value data by channel data, and their marketing channel profitability data in Jirafe and it contradicts what industry experts are saying with regard to whether Pinterest drives more traffic than Facebook," said Jirafe CEO Amit Shah. "For example, some studies cite Facebook as the most popular site, but that shoppers that are referred by Pinterest are more likely to buy and spend more."
"We work with more than 80,000 brands, and we wanted to validate what moves the needle for them right now, so they can start planning their strategy for the future," said Shah. "Hands down Facebook was the clear winner in terms of traffic, revenue, and orders."
Pinterest Vs Facebook Results
In the first five months of the year, Jirafe found that Facebook is the dominant source of social traffic and revenue for brands. Highlights from the study showed:
-Average Spend - Facebook visitors spend 3.5X more than the average visitors from Pinterest.
-Conversion Rates: Facebook traffic converts 17% better than Pinterest visitors, however the conversion rate from both social sources was still less than 1%.
-Traffic: Facebook drives significantly greater traffic at a ratio of 8:1.
-Total Orders: Facebook also drives 23x more orders than Pinterest did for merchants over the first five months of the year.
-Total Revenue: Across Jirafe's merchant base Facebook also drives $32 in revenue for every $1 that Pinterest generated.
"The new wave of buy buttons from Facebook, Pinterest, YouTube, etc. is meant to remove friction from merchants' purchase funnels - and make the buying process about the customer," said Shah. "The most important thing for merchants to know is which channel will pack the biggest punch for their brand."
Predictions and Advice For Merchants
"Given the developments in social commerce, continuously increasing mobile engagement, and what we are seeing across our merchant base, we believe that social media advertising will replace traditional forms of advertising," said Shah.
"How brands redefine their social strategy to make the most out of a buy button starts with looking at what their social strategy supports, be it engagement, customer service, or organic media versus paid," he said. "Businesses will have to make sure their strategy supports revenue, customer attention, and customer acquisition in order to see sales." Shah also offers five tips for merchants to help them prepare to implement social buying buttons:

It is important for brands to know their demographic, this will help ensure ads are targeted at the right audiences.
Analyze referral traffic, and be sure to invest in the channels that drive a combination of traffic and revenue.
Continue to encourage customers to share content on social networks about products.
Be strategic about which products are used for social sales, and how new products are introduced to customers to encourage them to come back.
Keep sharing great content, and make sure that it is fully optimized for mobile.
Jirafe's CEO will also present the findings along with practical strategic advice during a webinar on June 11, 2015 at 2PM EDT. Click here to register or visit http://info.jirafe.com/pinterest_v_facebook_webinar.
ABOUT JIRAFE
Jirafe provides more than 80,000 merchants with commerce intelligence to help them improve their personalization, marketing and merchandising and grow revenue. Our product was built on best practices learned from analyzing more than 425 million shopping experiences and the daily purchase behavior of more than 65 million shoppers. We provide leading and emerging brands like Dolls Kill, Nikon, and GE with a high performance, targeted ecommerce solution to manage their business. To learn more about how Jirafe can grow your business, visit http://www.jirafe.com.
Press Contact:
Laura Sankowich
VP of Marketing
p - 484-354-3918
e - laura.sankowich(at)jirafe(dot)com