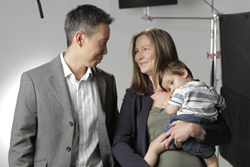 "My experience with Dr. Wang was just such a blessing. I even wanted to write a book about it to help more women who don't think it is possible to have a baby. They just need to see Dr. Wang."
Trumbull, CT (PRWEB) June 08, 2015
Sher Fertility Institute, a national network of fertility clinics known worldwide for their personalized approach to fertility treatment, is opening a new office in Trumbull, CT.
To celebrate the opening, Sher Fertility is hosting patient seminars on June 13th and 14th. The seminars are no cost and open to the public on a first come, first serve basis.
At the seminars, attendees will have the opportunity to learn about their treatment options in their quest to have a baby. Dr. Geoffrey Sher, a pioneer in the field of IVF known throughout the world for his unique approach will be there. Dr. Jeff Wang, Medical Director of Sher Fertility Connecticut will also be at the seminar to present new research and answer questions.
Dr. Wang has a personalized approach to infertility treatment. For him, it is a true partnership between the patient and doctor.
"I would like my patients to describe me as a physician who truly cares about their well being regardless of what the final outcome is. I was a good companion on this journey that we go on and that I'm there to share the joy when there's a positive outcome, I'm there to pick them up when they fall, and someone who is compassionate, someone who cares," Dr. Wang says.
Dr. Wang, who began his career in fertility care at Columbia University, has a strong and passionate following among his patient population. His former and current patients revere him for his compassionate bedside manner and his personalized approach. Here are a few things they have to say about Dr. Wang.
"Dr. Wang was very creative – always looking at my case in particular and trying to do things he could do to help me personally. That is why I think his success rates are so outstanding… he doesn't give up until he finds the exact right treatment for the patient. I think he really did a miracle. I think if I hadn't met him, I wouldn't be a mom now."
"He is a caring, amazing doctor. The work he is doing is his calling. And he is very successful because of it."
"Dr. Wang is very personalized, like every visit he talks to you, he listens to your body, to nature – that is what makes him really different and above everyone else. That's the reason why I truly believe that he's genius in the sense that you need to know your stuff but in the same time you need to have the time to listen to your patients in terms to get the best results for them."
Along these same lines, what distinguishes Sher Fertility and Dr. Wang is the way each patient is treated as an individual. Their case is looked at differently than any other. This is what separates Sher from the other fertility clinics.
"My experience with the Sher Institute was different than other facilities in the sense that we got there and we just, we exhaled and felt like we were being seen as people, individuals. I think what distinguishes the Sher Institute from other reproductive facilities is their desire to innovate and push the boundaries and learn new things about fertility, as well as keep kind of an individual connection to their patients."
At the conclusion of the seminar, Sher Fertility will have a drawing for the donation of a free IVF Cycle.
In the last three years, Sher Fertility has donated more than 100 free cycles at seminars and through other scholarship opportunities at their locations around the country. Many of these winners have gone on to have babies after their IVF Cycle at Sher Fertility.
"Everyone deserves to have access to services that allow them to achieve the basic dream of having a family," said Dr. Wang, "One component of this is the knowledge and empowerment to take charge of their own treatment, which we try to provide at these seminars. The other component is the financial aspect. Since many deserving couples don't have the means to pay for treatment out of pocket, we are happy to be able to donate treatment to a number of those couples."
Registration for the June 13th and 14th seminars is at http://www.haveababy.com
Sher Fertility Institute is a national network of fertility clinics specializing in leading-edge technology, personalized infertility treatment, and compassionate reproductive care. SIRM Founder Dr. Geoffrey Sher established the first private In Vitro Fertilization (IVF) program in the United States and is a recognized authority and pioneer in the field of reproductive medicine. Dr. Sher and the institute's other fertility specialists have been influential in the development of dozens of important breakthroughs in the treatment of infertility and reproduction.