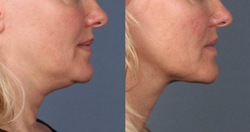 Melts Unwanted Fat under the chin!
Bellevue, WA (PRWEB) June 09, 2015
The FDA just approved Kybella, the first and only approved non-surgical treatment that melts fat. Kybella is administered non-surgically by injection - this is a breakthrough development as it may replace surgical liposuction in certain situations. For Kybella treatments, no anesthesia is required and no incisions are needed. Kythera - the company behind Kybella - developed a training program to educate physicians on the safe use of Kybella, and its approved indication. Naficy Rejuvenation Center was chosen by Kythera as one of few centers in the state of Washington to offer Kybella treatment, and participate as one of the chosen locations for a multi-center trial.
Naficy Rejuvenation Center is excited to offer this brand new and exciting non-surgical method of fat reduction to patients, beginning June 2015.
Dr. Sam Naficy is a highly specialized, fellowship-trained, and double board certified facial plastic surgeon with over 15 years of experience with modern techniques of cosmetic surgery and skincare. He performs close to 1,000 facial plastic surgery procedures per year. Dr. Naficy has been voted by other physicians in the Seattle area as one of the top doctors for facial plastic surgery (Seattle Magazine). At Naficy Rejuvenation Center, we have been ranked #1 in the state of Washington and the entire Pacific Northwest for Botox and Juvederm injections. We have also been ranked as the #10 practice in the entire United States for Botox and Juvederm injections. The injectors at our office perform over 6,000 injections every year, we are a leader in injectable rejuvenation. Naficy Plastic Surgery & Rejuvenation Center offers a full range of surgical and non-surgical, rejuvenation, dermatology and skincare procedures.