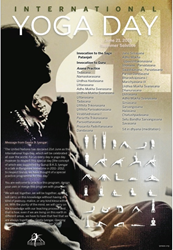 For us, every day is yoga day....However, to respect this special day, we have thought of a special practice."
Seattle, WA (PRWEB) June 17, 2015
On Sunday, June 21, 2015, Iyengar Yoga practitioners in the U.S. will join others around the globe to celebrate the inaugural International Day of Yoga, demonstrating that yoga truly is universal. In December 2014, 175 countries agreed to pass a United Nations General Assembly resolution declaring June 21st as the first ever International Yoga Day.
UN Secretary-General Ban Ki-moon said, "Yoga can bring communities together in an inclusive manner that generates respect."
The Summer Solstice on June 21 has special significance; in India, it is known as Guru Purnima, which occurs on the first full moon after the solstice and honors the guru (teacher). The first transmission of yoga is said to have begun near the Summer Solstice.
"For us, every day is Yoga Day. However, to respect this special day (the concept of which was suggested by B. K. S. Iyengar), we have thought of a special practice for this day," stated Geeta Iyengar, Co-Director of Ramamani Iyengar Memorial Yoga Institute (RIMYI) and daughter of B. K. S. Iyengar.
B. K. S. Iyengar, the founder of Iyengar Yoga, declared, "Yoga means union - the union of body with consciousness and consciousness with the soul." Mr. Iyengar died a yoga pioneer at age 95 on August 20, 2014 in Pune, India.
All Iyengar Yoga practitioners will be dedicating their practice on June 21 to their teacher, Iyengar, who revolutionized the practice of yoga by making it accessible to all. Geeta Iyengar developed a special asana sequence for June 21 to recognize her father and teacher's contributions to yoga.
Several events have been planned in the U.S. for International Yoga Day. These celebrations are open to all levels and styles of yoga. In San Francisco, thousands are expected to attend a community practice, Yoga: A New Dimension between 9:30-2:30 p.m. at Marina Green Park. The Iyengar Yoga Institute of San Francisco will host a 20 minute practice using Geeta Iyengar's sequence. The Iyengar Yoga Institute of New York will also use Geeta Iyengar's sequence during a class from 8:15-10 a.m. at 150 West 22nd Street, 2nd floor, New York, NY 10011. The Iyengar Yoga Center of San Diego (IYCSD) will host their celebration from 1-3 p.m. at their location. A smaller celebration will take place at the Battle Drive Pool at Fort Lee Army base in VA between 3:30-4:30 p.m. The free class is open to the entire base community. Participants must have a valid military ID. For suggestions on how organize a community, class, or personal practice in honor of International Yoga Day and B. K. S. Iyengar, visit the IYNAUS page.
About Iyengar Yoga and IYNAUS:
Iyengar Yoga stresses the union of body, mind, and spirit through the ongoing practice of asana (postures) and Pranayama (breath control), with a focus on alignment, precision, and detail in all poses. B. K. S. Iyengar codified over 200 classical yoga asanas and 14 types of Pranayama. In 1975, Mr. Iyengar founded the Ramamani Iyengar Memorial Yoga Institute (RIMYI) in Pune, India. The Iyengar Yoga National Association of the United States (IYNAUS) is a nonprofit organization which promotes the study of yoga according to the teachings of B. K. S. Iyengar. The organization oversees teacher training and certification and a national directory of Certified Teachers.