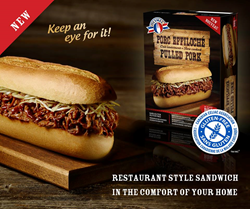 The implementation of this voluntary program and the display of the GFCP trademark on Olymel L.P. products ensures consumers that they are purchasing a trusted, easily identifiable and safe gluten-free product
Toronto, ON (PRWEB) June 10, 2015
To view this release in French click here
The Gluten-Free Certification Program (GFCP) and the Canadian Celiac Association are pleased to announce that Olymel L.P. has become one of the growing number of GFCP certified companies that have recently introduced a line of gluten-free products in Canada. Eight of Olymel L.P.'s facilities across the country are now certified in the GFCP program and are manufacturing over 50 gluten-free products under the Olymel, Lafleur and Flamingo brands. The Olymel L.P. brands are widely recognized and enjoyed by consumers for their delicious pork and poultry products which are packed with flavour, yet quick and easy to prepare. Look for Olymel products across Canada and for Flamingo and Lafleur products exclusively in Quebec.
The Gluten-Free Certification Program is a voluntary program designed for manufacturers and brand owners committed to producing safe, reliable gluten-free products. The program combines stringent, risk-based gluten-free requirements with globally recognized food safety management systems which exceed government requirements in both Canada and the United States. The program is verified by an annual robust, third-party facility audit process which ensures continued compliance. Paul Valder is President of the Allergen Control Group Inc. (ACG), the corporation that manages the GFCP, and states that "the Gluten-Free Certification Program came into existence to bridge the gap between limited legislation and enforcement, manufacturer self-declarations and consumer safety needs. The implementation of this voluntary program and the display of the GFCP trademark on Olymel L.P. products ensures consumers that they are purchasing a trusted, easily identifiable and safe gluten-free product".
"Consumers have a growing need for gluten-free products and as a leader in the processed meat category, Olymel L.P. wants to contribute to that segment's growth" says David Poirier, Marketing Director at Olymel L.P. "Meal preparation has become a real challenge for lots of consumers and even more for the people who suffer from celiac disease. These people are left with a very limited choice of manufactured and ready to serve products. This is why we are very proud to offer them a wide selection of delicious and convenient new products that they will feel confident to buy since they carry the GFCP trademark." Look for these products and more at your local retailer!
Olymel
Shaved Black Forest Smoked Ham
Shaved Old Fashioned Smoked Ham
Shaved Table d'Hôte Cooked Ham
Shaved Country Style Smoked Ham
Shaved Cooked Pork Smoked Meat
Pulled Pork, Slow Cooked BBQ Sauce
Applewood Smoked Flavor Bacon, Naturally Smoked
Bacon, Naturally Smoked
Low Salt Bacon, Naturally Smoked
Maple Flavour Bacon, Naturally Smoked
Maple Fully Cooked Bacon, Naturally Smoked
Bulk Wieners with Natural Ingredients (Skin on)
Smoked Shoulder Pork Picnic
Traditional Toupie Style Smoked Ham
Olymel Smart & Natural
Shaved Black Forest Smoked Ham
Shaved Cooked White Ham
Shaved Old Fashioned Smoked Ham
Shaved Smoked Chicken Breast
Shaved Cooked Turkey Breast
Sliced Black Forest Smoked Ham
Sliced Cooked Turkey Breast
Sliced Cooked White Ham
Flamingo
Frozen Gluten-Free Breaded Chicken Breast Burgers
Frozen Gluten-Free Breaded Chicken Breast Strips
Frozen Gluten-Free breaded Chicken Breast Fillets
Frozen Souvlaki Chicken Breast Skewers
Frozen Souvlaki Pork Skewers
Frozen Sliced Chicken Breast
Frozen Chicken Wings BBQ
Frozen Chicken Wings Buffalo
Frozen Chicken Wings Chipotle
Shaved Original Cooked Chicken
Shaved Old-Fashioned Smoked Chicken
Shaved Original Cooked Turkey
Shaved Smoked Turkey Old-fashioned
Shaved Black Forest Smoked Turkey
Shaved Smoked Meat Style Smoked Turkey
Lafleur
Original Fully Cooked Bacon
Low Salt Fully Cooked Bacon
Maple Flavour Fully Cooked Bacon
Original Bacon, Naturally Smoked
Less Salt Bacon, Naturally Smoked
Maple Bacon, Naturally Smoked
Shaved Cooked ham
Shaved Black forest Smoked Ham
Shaved Montagnard Smoked Ham
Old Country Smoked Ham
Black Forest Smoked Ham
Le Caprice Smoked Ham
Maple Flavour Smoked Ham
Le Festin Smoked Ham
Picnic Smoked Pork Shoulder
Smoked Ham, Toupie Style
Lafleur Authentique
Shaved Rustic Smoked Ham
Shaved Black Forest Smoked Ham
Shaved Cooked White Ham
Lafleur Naturel
Naturel Fully Cooked Bacon
Naturel Bacon
Naturel Hot Dog Wieners
About Olymel L.P.
Olymel L.P. is Canada's leader in the field of processing and distribution of pork and poultry meats. The company has made feeding the world its mission, which it pursues passionately with products of impeccable quality. In carrying out its mission every day, Olymel relies on its tradition of maintaining a strong link between farm and table, as well as on innovation and attention to customer and consumer needs. The company employs close to 10,000 persons, including more than 7,000 in Quebec, and has large facilities in Ontario, Alberta, New Brunswick and Saskatchewan. Olymel exports about a third of its total sales to the United States, Japan and Australia as well as over 60 other countries. Its annual sales are on the order of 2.8 billion dollars. The company markets its products mainly under the Olymel, Lafleur and Flamingo brands. http://www.olymel.com/en/
About the Allergen Control Group Inc. (ACG)
The Allergen Control Group Inc. is a privately held corporation which owns and operates the Gluten-Free Certification Program on a global basis and is endorsed exclusively by the CCA in Canada and the NFCA in the USA. http://www.glutenfreecert.com
About the Canadian Celiac Association (CCA)
The Canadian Celiac Association is the national voice for people who are adversely affected by gluten, and is dedicated to improving diagnosis and quality of life. Based in Mississauga, Ontario with 28 Chapters across the country, its mission includes advocacy, education, research and community support. http://www.celiac.ca
About the National Foundation for Celiac Awareness (NFCA)
The National Foundation for Celiac Awareness (NFCA) is a US-based 501(c)(3) non-profit organization that drives diagnoses of celiac disease and other gluten-related disorders and improves the quality of life for those on a lifelong gluten-free diet. For more information, visit http://www.CeliacCentral.org.