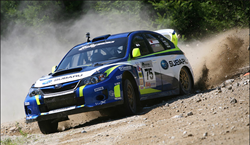 We are putting this extra focus on supporting the regional competitors so we can continue to have a large competitor field which helps keep costs low. -Tim O'Neil
Bethel, Maine (PRWEB) June 08, 2015
New England Forest Rally (NEFR), will celebrate its 25th anniversary at Sunday River Resort in Bethel, Maine on July 17-18, 2015. The NEFR is the 6th national championship rally event in the Rally America series.
For this event, NEFR will freshen up the stages, resurrecting ones from previous years that most competitors have never seen. Competitors will also race on the smoothest roads ever offered at NEFR, in an effort to help keep repair costs low for its competitors.
NEFR Rally Chairman Tim O'Neil is committed to a focus on regional competitors. The event continues to be the most affordable of the entire Rally America series. Its fully-renovated website now offers online payment to make it easier than ever to participate. NEFR has also added an enhanced marketing program to help regional competitors share their stories with regional journalists in an effort to assist these competitors in finding local sponsors.
According to O'Neil, "We are putting this extra focus on supporting the regional competitors so we can continue to have a large competitor field which helps keep costs low."
Competitors can learn more about the event, get details on lodging options, register and pay their entry fees for the New England Forest Rally at NewEnglandForestRally.com.