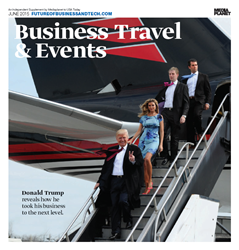 Nothing beats personal interaction
(PRWEB) June 05, 2015
The print component of "Business Travel & Events" will be distributed within this weekend's edition of USA Today, in New York, Chicago, Houston and Dallas, with a total circulation of approximately 250,000 copies and an estimated readership of 750,000. The digital component is being distributed nationally, through a vast social media strategy, and across a network of top news sites and partner outlets. To explore the digital version of the campaign, click here.
Business magnate, investor and TV personality Donald Trump is featured on the cover of both the print and digital editions. In an exclusive interview, Trump shares why he believes that direct, in-person communication is the way to grow a brand. "Nothing beats personal interaction," he states. "It's the best way to build a rapport, and that can only enhance business performance."
This campaign was made possible with the support of the Global Business Travel Association, IBTM, Professional Convention Management Association, Association of Corporate Travel Executives, Society for Incentive Travel Excellence, Donald Trump, Meetings Mean Business, Caesar's Entertainment, Starwood, Los Angeles Convention and Tourism Board, Maritz Travel and NYC & Company.
About Mediaplanet
Mediaplanet is the leading independent publisher of content-marketing campaigns covering a variety of topics and industries. We turn consumer interest into action by providing readers with motivational editorial, pairing it with relevant advertisers and distributing it within top newspapers and online platforms around the world.