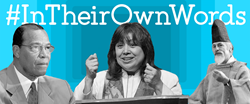 San Francisco, CA (PRWEB) June 05, 2015
WorldReligionNews.com is excited to announce the latest round of religion founder and leader interviews in their "#InTheirOwnWords" series, in which they've collected historically defining interviews with world religion founders and leaders.
These hand picked interviews from archives provide a first-hand look into the perspectives and lives of the religious founders and leaders who have, and continue to, change the world as we know it both on non-secular and secular fronts.
Today's published round of interviews include the Hon. Minister Louis Farrakhan, The Nation of Islam leader, Minerva G. Carcano, the first Hispanic woman to be elected to the episcopacy of The United Methodist Church, and Shinto priest, the Reverend Koichi Barrish.
In this interview with The Islamic Monthly, Louis Farrakhan discusses how he left Christianity for Islam after hearing Malcom X, different sects of Islam, race, and reform, especially for Muslim women and children.
The first Hispanic female bishop in the episcopacy of The United Methodist Church and a native of Texas, Bishop Minerva G. Carcaño talks about immigration issues and how United Methodists support immigration reform.
Reverend Koichi Barrish, famous for being the first non-Japanese Shinto priest and priest of the Tsubaki Grand Shrine of America, sat down with Susan Barber of the Spirit of Ma'at to discuss the Shinto faith and his milestone in the religion's history.
Previously published historical interviews with religion founders and leaders have included Gerald Gardner, the founder of modern Gardnerian Wicca, Joseph Smith, founder of the Mormon religion and Church of Jesus Christ of Latter-day Saints, and Ahmadiyya Muslim Community leader Hadhrat Mirza Masroor Ahmad, Non-violence inspiration and religious leader Mahatma Gandhi, Former China Taoist Association Chairman Min Zhiting, and Hillsong Mega Church founder Brian Houston, Buddhist leader Thich Nhat Hanh, Church Of Scientology founder L. Ron Hubbard, and Saddleback Church founder Rick Warren, Religious leader and equal rights movement icon Martin Luther King, Jr., Chief Rabbi Ephraim Mirvis, and Jain Master Shri Chitrabhanuji, Lakewood Church's Joel Osteen, Scientology leader David Miscavige, and Imam Feisal Abdul Rauf, the Vatican's Pope Francis, Gordon B. Hinckley, former president and prophet of the Mormon church, and Buddhist leader the Dalai Lama.
WorldReligionNews.com will continue the #InTheirOwnWords series throughout the year. You can follow the series of world religion founder and leader interviews and subscribe to the WRN newsletter and RSS feeds at http://www.worldreligionnews.com