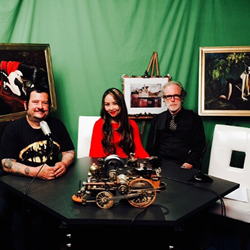 Chris Spollen and Jing Bao, artists at the Steam Powered Art Factory.
Staten Island, NY (PRWEB) June 09, 2015
Staten Island artists Chris Spollen and his wife Jing Bao have been featured on the Guy Cormier Show "Stories," Time Warner Channel 34 and Fios Channel 35. During the one-hour taping they presented recent sculptures paintings as well as explained how they work inside their Staten Island home, affectionately called the Steam Powered Art factory. Chris detailed how he has converted his one car garage into a studio and art shop, where his sculptures are both fabricated, welded, and painted. Jing prefers to paint in the homes second floor where she has an office and small art studio.
Jing Bao showed her recent oil paintings as well talked about her just finished book, "The Silly Classroom," for Boulevard Books. She carefully explained how she could work fluidly in both oil or with a stylus on a computer. Her new book was painted digitally and clearly reflects her skills with both drawing and color.
Chris Spollen discussed his upcoming book, "The Art Of Recycling," a three hundred page all color hard cover book covering flying machines to rocket ships to be published by Boulevard Books.
Boulevard Books is a publishing company by writers for writers. Founded in 2010 by author and educator, Avi Gvili, Boulevard Books aims to develop the manuscript from its initial submission to its fully realized final book form. Worldwide distribution follows in hard copy as well as across every digital platform available today in 39,000 outlets and libraries.