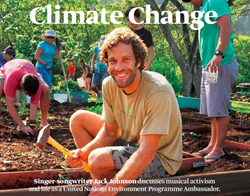 New York, NY (PRWEB) June 05, 2015
Mediaplanet has united leading organizations and thought leaders in the fight against climate change to create a collective voice that can educate readers and inspire them to fight climate change in their everyday life.
The print component of "Climate Change" is distributed within the centerfold of USA Today in the markets of New York, Los Angeles, Chicago, San Francisco, Seattle and Denver, with a circulation of approximately 450,000 copies and an estimated readership of 1.3 million. Its digital component is distributed nationally, through a vast social media strategy, and across a network of top news sites and partner outlets. To explore the digital version of the campaign, click here.
Jack Johnson spearheads the cover of the print publication. An exclusive interview with the award-winning musician and United Nations Environment Programme Ambassador illuminates for readers the importance of greener living—as well as the fulfillment it can bring. Says Johnson, "When my actions are leading me on what I believe to be the right pat, a sustainable path, I feel more at peace with the world around me."
This edition was made possible with the support of Al Gore, Jack Johnson, The Environmental Protection Agency, the United Nations Environment Programme, 1% for the Planet, Code REDD, Kohler Company, Lands' End, MetLife, Energizer, General Motors, CSA Group, Citgo, Xylem and many more.
About Mediaplanet
Mediaplanet is the leading independent publisher of content-marketing campaigns covering a variety of topics and industries. We turn consumer interest into action by providing readers with motivational editorial, pairing it with relevant advertisers and distributing it within top newspapers and online platforms around the world.